VMAX MB127 12V 100Ah Group 27 AGM Deep Cycle Battery for golf carts req. Grp27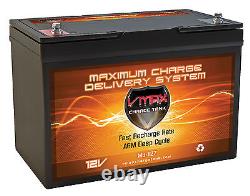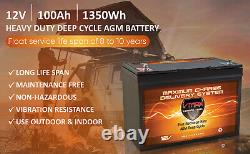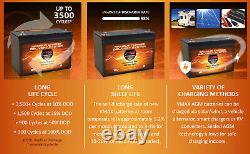 EXPERIENCE THE DIFFERENCE WITH VMAXTANKS Hi Performance AGM battery MB127-100. DRY CELL DEEP CYCLE MAINTENANCE FREE WHEELCHAIR BATTERY EXCELLENT UPGRADE FOR ANY WHEELCHAIR THAT CAN FIT A 12.1" L 6.7" W 8.2 H BATTERY. ENJOY THE PERFORMANCE, CONVENIENCE & PEACE OF MIND. HIGH POWER, AGM 12V WHEELCHAIR BATTERY AMAZING PERFORMANCE AND GREAT RELIABILITY.
The heart of the VMAX is the unique physical and chemical structure of its plates. The special treatment and manufacturing process they undergo gains them unique reliability, strength and high performance far exceeding those of other Pb-Ca plates used in similar looking products. No Dangerous Fumes or Gases. Custom Built Military Grade Alloys.
Extremely Low Self Discharge Rate. Approved for Mobile, Maritime and Air Travel.
Extreme Vibrations, Heat and Weather resistant. Sealed Non-Spillable Non Hazardous Construction.
Maximum Power Density and Deep Cycle Capabilities. For Models requiring 2 batteries, check our 2 battery listings for even more discounts. Don't settle for an average Lead Acid Battery, Choose a VMAX CHARGE TANK. TERMINAL POSTS: Philips / HEX Screws for use with RING or SPADE terminal cable ends.