US2200XC Replaces T-105 6V Volt Deep Cycle Golf Cart, Solar, Marine, RV 8 Pack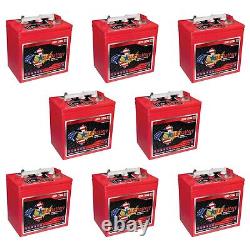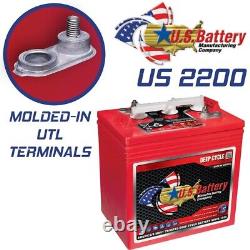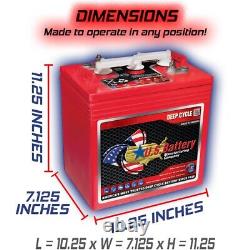 US BATTERY 6V FLOODED LEAD ACID BATTERY - US 2200 XC2. This listing is for 8 Batteries (Specs below are for each battery). BCI Group Size: GC2, Compatible. GC2 Deep Cycle Battery 6V 232Ah. Dimensions: 10.25 x 7.125 x 11.25 inches. Case Material : Polypropylene / Heat Sealed. Battery's Flooded Lead Acid batteries are engineered and proven to provide the fastest cycle-up to full rated capacity, and have the highest total energy delivered over the life of the battery. Building the best Flooded Lead Acid Battery on the market comes from a better battery cell design, hand-made construction, and attention to details.
The high charge efficiency design also meets new California Energy Commission regulations for combined charger/battery charge efficiency. Battery's unique design and variety of sizes in 6, 8 and 12-volt applications, the FLA batteries offer the most compatibility with the wide range of chargers used in the field. Battery's proven manufacturing processes, along with its reliable and dependable service, continues to be the most trusted world-wide brand for more than 90 years.