PowerStar 48V 105Ah LiFePO4 Lithium Battery for Club Car Golf Cart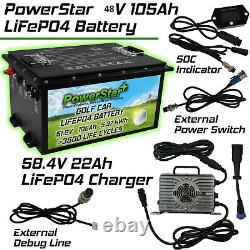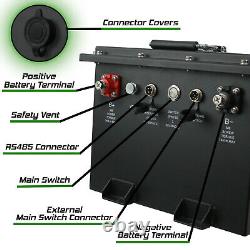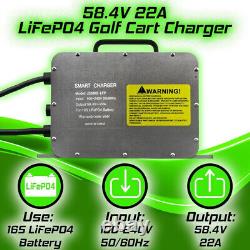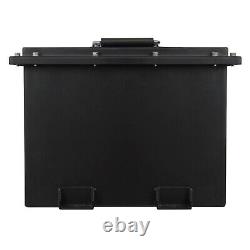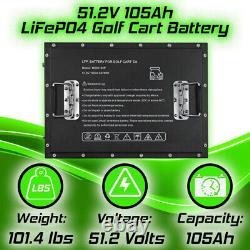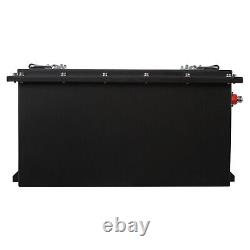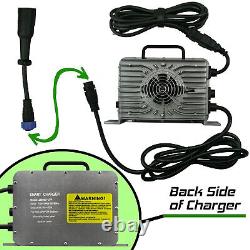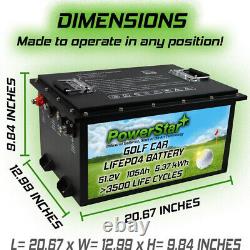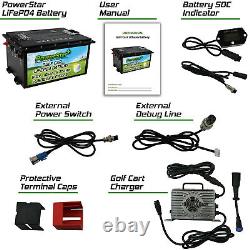 SEE BATTERY AND CHARGER SPECIFICATIONS BELOW! 6 Flooded Lead Acid Batteries VS 1 PowerStar LiFePO4 Battery. 36 Volts in parallel compared to 1 battery with 51.2 Volts! Less wires, less balance issues. No filling, no spilling, no maintenance.
Up to 45 miles longer range. 10x longer lifespan (>3500 life cycles).
Faster charge (full charge in 5 hours or less). Internal BMS (Battery Management System). PowerStar LiFePO4 3-pin Round Club Car Charger. (MOUNTING BRACKET AND HARDWARE NOT INCLUDED). PowerStar 51.2 Volt 105Ah LiFePO4. Club Car Golf Cart Battery. Stored energy= 5.37 kWh.
Self discharge= Max 3% per month. Cell model= LF105 (3.2V 105Ah). Weight= 101.4 lbs (46 k g).
Dimensions= (LWH) 20.67 x 12.99 x 9.84 inches. (52.5 x 33 x 25cm). PowerStar 58.4 Volt 22A LiFePO4. Club Car Golf Cart Charger. Round 3-pin Charger compatible with all Club Car golf carts.
Output Voltage= 58.4V, Input Voltage= 90-260Vac. CC (Constant Current) Output Current= 22A. Transition Current= Input, 5A / Vout, 58.4V. CV (Constant Voltage)= Vout, 56V. AC Input Voltage Frequency= 47~63 Hz.
Power your cart battery on and off from the comfort of your seat! This external power switch has more than enough length to install on the dash of your cart. It's as simple as pressing and holding the button for 3 seconds! There's no need to open the battery compartment, or get your voltage tester!
This state of charge (SOC) indicator turns on and off with the push of a button, can easily remain connected to your battery, and even has the length to be installed on your dash. Once the battery is wired in, all you have to do is use the included 3 prong golf cart charger. The charging program consists of 3 steps: constant current, constant voltage, and float charging. Over-voltage protection (The charger output voltage does not exceed set the maximum charging voltage of the battery). Current limiting protection (The charger output current does not exceed a set battery charge current).
Over-heating protection The inside temperature>80? , Automatic Shutdown, The inside temperature. Standard charge time= 5 hours. Explanation of Charger LED Status.