New Lithium Golf Cart Battery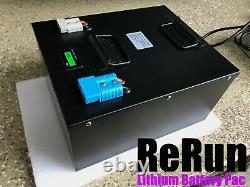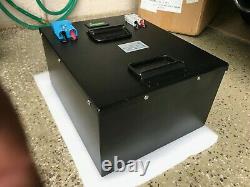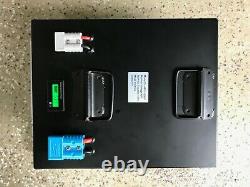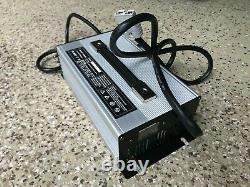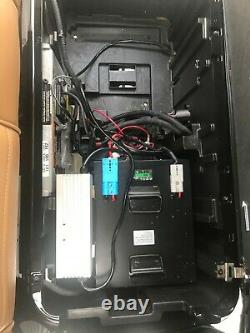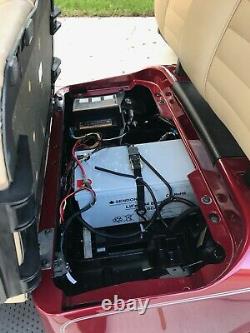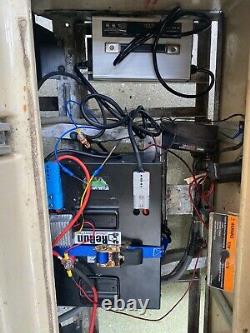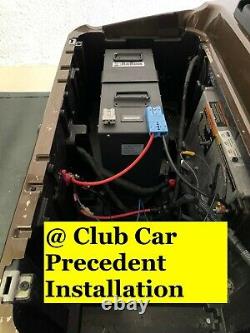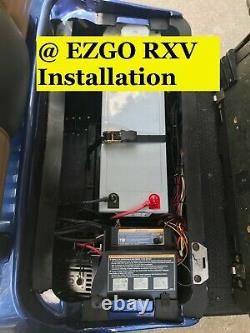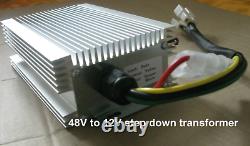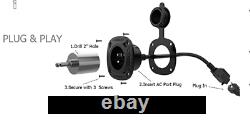 Custom engineered and manufactured for ABC Cart Care. ReRun 3.0 Lithium Battery & Conversion Kit is designed for use in.
Any standard 48-volt golf cart. Lithium golf cart batteries are the new standard. The golf carts used by almost all modern golf courses are lithium powered. And that's because lithium batteries are safe, clean, and.
The ReRun Lithium battery and conversion kit enables you to safely and efficiently convert your golf cart from lead/acid to lithium power. No Lithium conversion is "plug and play". Each golf cart make, model and year has minor variations that require alterations in the conversion process. You will receive specific instructions to address the variables. A successful conversion will depend on the minor details.
What is included in the kit? ReRun 3.0 48-Volt 75aH Lithium battery with built-in SOC display. The charger is fully automatic. Red light means its charging green light means it's done. The built-in LED display panel will provide detailed information during the charging progress.
Hold down strap, anchor bolt, and other mounting hardware. 48V to 12V transformer for your 12-volt accessories.
Through the wall AC extension. Has 200+ employees and produces over 7000 Lithium battery packs per year. Producing lithium batteries for electric vehicles is their only business. They are a verified supplier for whom certain aspects of its company profile, management system, production capabilities, and product and process controls have been assessed, certified, and/or inspected by independent third party institutions. The built-in BMS provides overcharge protection, over-discharge protection, over-heat protection, reverse polarity protection, and cell balancing.
Thanks to the BMS this battery is 100% safe and otherwise goof-proof, it cannot be abused. The lithium-iron (LiFePo4) battery has an edge over the Li-ion(LiCoO2) battery for safety, thermal stability, and a longer life span. The ReRun 3.0 lithium battery weighs 75 pounds vs Lead/Acid batteries 380 pounds. Lower weight means less wear and tear on your golf cart tires, brakes, suspension, and steering components.
And less wear to the golf cart turf. The ReRun Lithium battery provides higher performance and hill-climbing acceleration and does not degrade over its lifespan. Your golf cart's highest speed will be about the same as before the conversion but you will feel the extra power.
The LiFePO4 48V 75Ah lithium battery has a range of 40-45 miles on flat pavement. Or about the same range as six 8-volt lead/acid batteries.
Two lithium batteries in parallel will double the range. Lithium: 12-15 years vs Lead/Acid: 5 years. The ReRun 3.0 LiFePO4 Golf Cart Battery is rated for up to 4000 charge cycles. One cycle equals fully discharged to fully charged.
In other words, charging the battery after 25% discharge is 1/4 of a cycle. Unlike Lead/Acid batteries lithium batteries degrade slowly. Hypothetically speaking, when the battery is new the range is about 40 miles.
After 5 years the range might drop to about 35 miles, after 10 years the range might drop to 30 miles, after 15 years the range might drop to 20 miles, and so on. Lithium batteries require zero maintenance. Lead/Acid batteries need water and frequent battery terminal cleaning. Lithium batteries are corrosion-proof--no acid.
Lead/Acid batteries will cause corroded cables and connections and acid drip in your garage as well as corrosion damage to your golf cart. Lithium batteries do not need to be charged during off-season storage. Lead/Acid batteries must be charged at all times or the internal plates will damaged and cause premature battery failure. Detailed conversion instructions will be provided. Plus you will receive access to an actual start to finish conversion video.
Below are the basic conversion Instructions. Switch to TOW/RUN to TOW. Take multiple photos of the battery compartment. Make sure that you have all of the cables and wires captured in the photos. Remove battery HOLD DOWN hardware.
Tape or tie the positive cables and wires together, tape the negative cable and wires together. If there are any 12-volt accessory wires you can no longer connect to one or two batteries. So make sure those wires the are separated and identified. For EZGO RXV prior to 2012 and most Club Car Precedents no modifications will be required.
For some EZGOs and Yamahas it will be necessary to use a bottom brace (provided). Drop-in and secure the new Lithium battery using the hold-down strap provided. Use the terminal posts [provided] to connect the positive and negative cables and wires.
Plugin the Anderson power connector(s) to the lithium battery. Mount/fasten the charger inside the battery compartment. Plugin the charger cable into the battery.
Drill hole for the onboard charger AC extension. If there are 12-volt accessories you will need a 48-volt to 12-volt step-down transformer.
Some conversion will require that you update the existing OEM step down transformer. This step is the most tricky part of the conversion. Don't make a mistake and blow out all of your lights.
Switch the TOW/RUN to RUN. The item "New Lithium Golf Cart Battery" is in sale since Sunday, August 30, 2020. This item is in the category "eBay Motors\Parts & Accessories\Car & Truck Parts\Electric Vehicle Parts\Electric Vehicle Batteries".
The seller is "sc_cbt" and is located in Naples, Florida. This item can be shipped to United States.
Chemistry: LiFePO4
Country/Region of Manufacture: China
Type: Lithium Golf Cart Battery
Application: For Ezgo, Club Car and Yamaha Golf Carts
Deminsions: 14.17" length 11.41" width 7.08" height
Weight: 75 lbs.
Manufacturer Part Number: R03.0
Support: Live support 6am to 6pm Monday-Saturday
Self-discharge rate: 1% Per Month
Cells: 16
Voltage/Capacity: 48V 75aH
BMS: 16s 275a
Brand: ReRun
Warranty: 4 Year 100% replacement