NEW LiFePO4 12V 100Ah Lithium Battery Deep Cycle Rechargeable for Solar RV Boat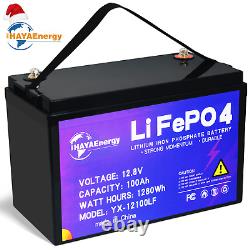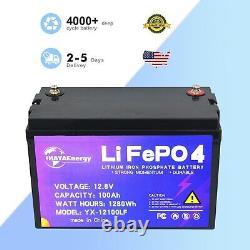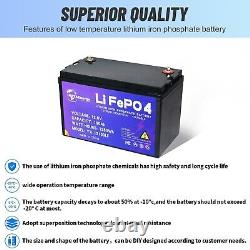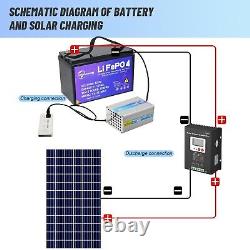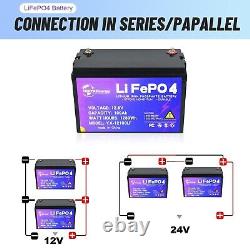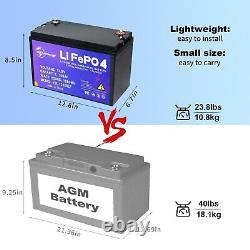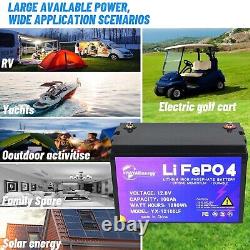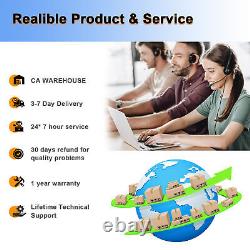 Charge Voltege: 14.4-14.6V. Maximum Continuous Discharge Current: 100A.
Peak discharge current: 200A (Duration: less than 5 seconds). Over Charging Protection Voltage: 14.6V. Cycle Life: > 2000 cycles at 100% Depth of Discharge (DoD), up to 5000 cycles at 80% DoD.
Features of lithium iron phosphate battery. The cycle life reaches more than 2000 times, and the standard charge (5 hour rate) use can reach 2000 times. The performance-price ratio will be more than 4 times that of lead-acid batteries. Lithium iron phosphate has undergone strict safety tests and will not explode even in the worst traffic accidents. The peak value of lithium iron phosphate electric heating can reach 350. While lithium manganese oxide and lithium cobalt oxide are only around 200.
Small size and light weight. Green environmental protection, regardless of production, use and scrap, does not contain or produce any toxic and harmful heavy metal elements and substances. The self-discharge rate is very low, which is one of the most outstanding advantages of the battery.
Generally, it can be less than 1%/month, less than 1/20 of the Ni-MH battery. Built in Automatic Battery Protection System Internal.
The intelligent, electric Battery Management System(BMS) protects batteries from extrem temperatures, overcharging, and excessive discharge, provide short circuit protection, balance voltage each cell. 1x 12v 100A LiFePO4 Battery Pack (Charge and discharge from the same wires).
This pack doesn't include the charger. It is recommended to charge up the battery to 80% if you are going to store it for a period. Make sure the battery will be charged at least once every 3 months to ensure the best performance and cycle life.
The battery should be stored in a dry environment, keep away from fire and heat sources. Avoid direct connection of positive and negative poles. Please read the product manual carefully before installing and using the product. Question:What is maximum charge current? Answer:The maximum charging current is to charge at the maximum current limit for the safe use of the protection board. If you continue to charge the battery beyond this current, it will damage the battery protection board and cause damage to the battery. In order to protect the life of the battery, we have to protect the boa. Question:Can a boat/car alternator be used to charge this battery? Answer:Yes, as long as the voltage and power of your boat/car alternator is compatible with our batteries. Question:can i use four of your lithium iron batteries connected in series, so it's 48v, with my 5000w electric bike motor and 48-72v 80ah controller? Answer:The battery protection board is 100A, if your controller current exceeds 100A, it cannot be used, The controller current can be used within 100A. Question:Would it be ok to put 2 of these batteries in parrallel to use with a 12v 30amp solar charge controller? Answer:If it is two identical batteries, it can be used in parallel, thank you.
This item is in the category "Consumer Electronics\Multipurpose Batteries & Power\Rechargeable Batteries". The seller is "electronicstore" and is located in this country: US.
This item can be shipped to United States.
BMS: 100A
Brand: HayaEnergy
Type: battery
Chemical Composition: Lithium Iron Phosphate (LiFePO4)
Amp Hours: 100 Ah
Voltage: 12 V
Battery Size: 12 V
Application: RV, Solar, Marine, Golf Cart
Country/Region of Manufacture: China
Manufacturer Warranty: 1 year
Custom Bundle: No
Expiration Date: NO