New 48v 186Ah Lithium Ion Golf Cart Battery and Charger with Free Shipping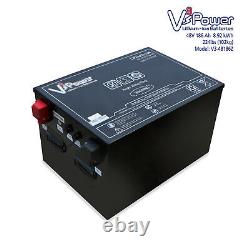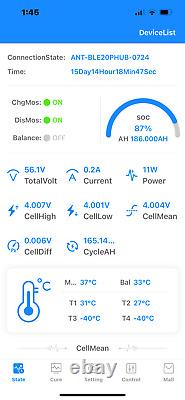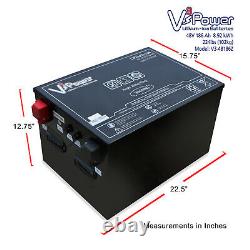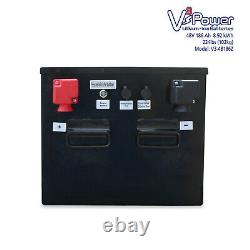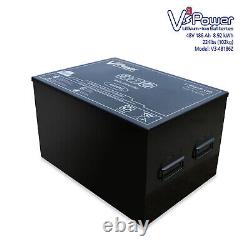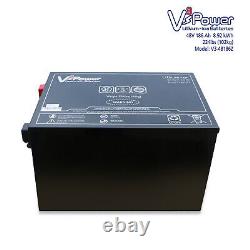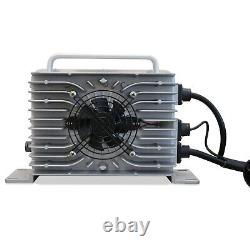 New 48v 186Ah Lithium Ion Golf Cart Battery and Charger. This battery is specifically designed for 6 seat golf carts that need extra power to carry heavy loads. Although a 108Ah battery works in most 6 seat golf carts, the range is limited. This battery is designed to give that extra power most heavy carts need to have 40+ mile range! We strongly recommend that you measure carefully before purchasing to confirm the battery will fit in your specific cart.
Note that this battery is set up to be strap mounted, meaning the battery is put on a flat mounting surface and a battery strap is used to secure the battery to the flat surface. Lithium Ion increases your power, speed, and cart range, while also eliminating lead acid battery maintenance headaches. Bluetooth enabled with a free IOS (iPhone) App to allow you to view your battery state of charge, volts, amps being used, and many other parameters. Battery Management System (BMS) built into the battery to protect the battery and your cart from over temperature, over current, and excessive charging. The BMS also manages the battery charging profile to maximize your battery life.
Voltage at end of discharge. Advantages of Lithium Ion over Lead Acid. On average Lithium Ion batteries weigh 150-200 pounds less than lead acid. Less weight means your cart will have a longer range and better performance.
Lithium ion batteries have a stronger power curve. Lithium ion delivers full voltage throughout 75% of a charge cycle, where lead acid battery voltages begin to drop as soon as you turn your cart on. Lithium ion batteries require ZERO maintenance.
Traditional lead acid batteries must be cleaned of the sticky acidic corrosion every few months to prevent damage and failures - Lithium ion batteries don't have corrosion or acid to clean. Lead acid batteries also require adding de ionized water every 1-2 months to refill the battery cells - Lithium ion batteries are sealed and never require water. CHARGE TIME: Lithium ion battery packs can fully charge in about 5 hours, where the typical charge time or lead acid batteries is 8-12 hours. Lithium ion batteries can also be "opportunity charged, " which means you can "top off" your charge any time you want without harming the battery.
Topping off with lead acid batteries results in reduced battery life and possible battery damage. Lithium ion batteries last 4-5 times longer than lead acid batteries. Typical lead acid batteries in a golf cart last about 500 charge cycles, which means if you use your golf cart twice a week, then your batteries will need replacing in about 3 years.
Lithium ion batteries generally cost 40-50% more than lead acid batteries, so your up front cost is higher with Lithium. Lithium batteries are easier to recycle and put less strain on the environment than lead acid batteries. This means they're the more eco-friendly battery that other batteries.
There are licensed battery drop off locations all across the country where you can drop off your used Lithium ion battery. Installation is typically not complicated for most golf carts. It's critically important that you measure carefully before purchasing or attempting to install a lithium ion battery to make sure the battery will fit in the allotted space.
If your cart has control components or a charger in the middle of the battery bay, then those components will need to be relocated to install a lithium battery. Most service technicians can install a Lithium ion battery for you in an hour or two. We highly recommend using qualified service technician for install. Is there an installation kit included?
We do not include installation kits. We've found that the installation kits provided by other suppliers are just brackets to secure the Lithium ion battery to and you still have to figure out how to secure the bracket to the cart frame, which isn't always an easy task. Therefore, since every cart is different and there are simply too many combinations, we do not offer mounting brackets and we recommend using a qualified service technician for installation. Technicians are experienced with creating a secure mounting position for the battery and connecting the battery terminals. Is there a battery gauge included? There is no physical gauge that you need to install.
Is a battery charger included? Yes, we include a charger with every battery. The charger works off standard 110volt power (household outlet). You'll need to wire the charger for your particular cart, meaning if your charger is mounted on your cart, then you'll need to replace the lead acid charger with our lithium charger and wire the charger to the power supply. This item is in the category "Consumer Electronics\Multipurpose Batteries & Power\Rechargeable Batteries".
The seller is "austin_carts" and is located in this country: US. This item can be shipped to United States.
Brand: V3 Power
Type: Golf Cart Battery
Amp Hours: 186Ah
Manufacturer Warranty: 5 Years
Voltage: 48 V
Chemical Composition: Lithium
Application: High Drain Devices