NEW 2pc 12V 35Ah U1 SLA AGM Wheelchair Golf Cart Med Battery W CHARGER FAST SHIP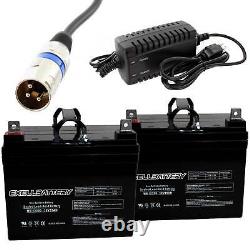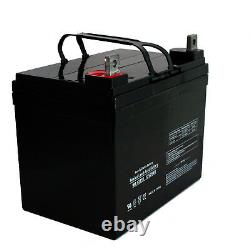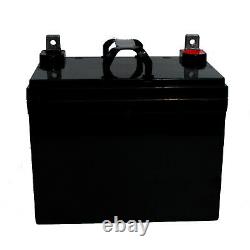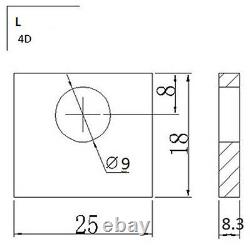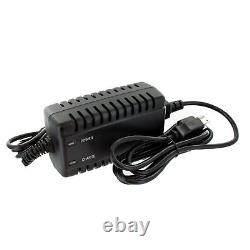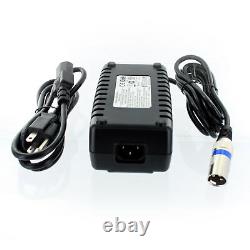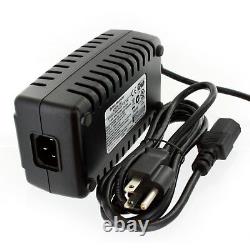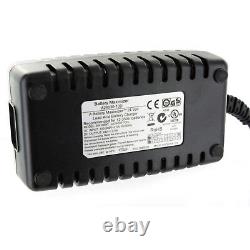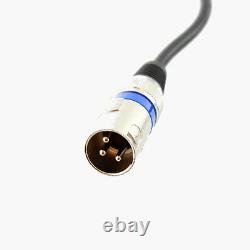 Flashlight / Batteries / Bulbs. FRS / 2-Way Radio Batteries. Remote / Car Alarm / Lantern. Exell Battery 12V 35Ah Sealed Lead Acid Battery Rechargeable AGM for solar applications, UPS Backup, and medical mobility and replaces UB12350, 45976.
Batteries in a Flash offers a variety of high quality sealed lead acid (SLA) batteries. These unique batteries are used in a variety of applications such as computer systems, exit signs, emergency lighting, scooters, industrial/medical equipment, and wheelchairs. These batteries are also ideal for solar applications, UPS Backup, and medical mobility! This specific battery is classified as an AGM battery or Absorbent Glass Mat, using technology that assures superior battery performance.
AGM batteries are valve-regulates, spill proof, and are safely used in any position. Common uses for this battery: Consumer Electronics, Electric Vehicles, Golf Carts, Hunting, Lawn and Garden Tools, Medical Mobility, Motorcycles, Power sports, Portable Tools, Solar, Toys and Hobby, Access Control Devices, Emergency Lighting, Security. Type (Chemistry): AGM Sealed Lead Acid. Length: 7.75(196.9mm). Width: 5.19(131.83mm).
Excellent performance and ability to endure high current output and deep cycling. Greater resistance to vibrations, shock, chemicals and heat. Higher cranking amps and lower self discharge. Electrolyte is suspended in fiberglass mat separators, which act as absorbent sponges.
Exell Battery Maximizer 24V 3.5A Mobility Lead-Acid Battery Charger. The Fully Automatic 24V mobility charger is a safe, fully automatic, efficient, multi-stage full switching charger. It is designed to properly charge VRLA, SLA, AGM, Gel lead-acid batteries without having to worry about overcharging.
It may be used in all parts of the world with its advanced universal AC input (100 or 240 VAC). The dual bi-color LEDs let you know the condition of the battery and if there are problems.
Safety Listings: UL, CUL, CE, FCC Class B. Universal AC input: 100-240V, 50-60Hz. Access Point Medical: AXS33F, AXS5018, AXS5020, AXS6000, AXS7000 Active Care: Amigo Mobility RD, Catalina, EXT 350, FD (Front Drive), HD 450, Medalist, Pilot 3-Wheel, Pilot 4 Wheel, Renegade, Value Shopper.
Wildcat Alpha: CFR 1500RM, CFR 3000, CFR 3000E, CFR 4000, CFR 4000E, CFR 5000, CFR 5000E, EBP 1233-144, EBP 144A, EBP 24C, EBP 24CC, EBP 48A, EBP 48AC, EBP 48I/A RM, PS 12300, SB 1228, UPS 125, UPS 1295 Ariens: YT10, YT11. Best: 8A-12 Bruno: Catalina 46, Cub 30, Cub 32, CUB 35 FWD, Cub Pediatric, CUB RWD, Firefighter 46, Police 46, PWC-2200 RWD (Optional Cub 46 only), PWC-2300 FWD, REGAL, Super Cub 34, Super Cub 44, Super Cub 46, Thunder 37 Bunton Company: 32-10BBS, 36-10BBS, 36H-10BBS, 52-10BBS, 52H-10BBS, Lawn Lark 36. C&D: LS-12-25 Case International: 644, 646, 648, 80XC. Dalton Medical: 3 Wheel SC-135 HD, 4 Wheel SC-S145 HD, ePower Aluminum, ePower Pediatric, MW, Primechair, RW Damaco: D90, D99, ELECTRO-LITE, ELITE, OVATION Dane: SmartKart Deere & Co. 100, 108, 111, 112L, 116, 116H, 200, R72, R92, S82, S92.
Dixie Chopper: 5018, 5020, 5024, 6024. Douglas Guardian: DG12-32, Mule 12GC160R. Drive Medical: Cirrus - DP116, Cirrus Plus, Daytona, Denali, Design Image, DP118, DP120, Gladiator GT, Image GT, Odyssey, Stingray, Sunfire, Sunfire General, Sunfire Plus, Sunfire Plus GT. Wildcat, Zip'r PC Dual Lite: M1, MPS640SP, P4C1 Dual-lite: 100BVC, 12EDCX100BVC, 12EDX100BVC, 12EDX100BVC - - RETROFIT, DEDA E.
Eagle Pitcher: CF12V30, CFM12V33 Eaton / Powerware: Emergency Lighting:, FORTRESS 1 LI 17, FORTRESS 1 LI 18, FORTRESS 1 LI 20, FORTRESS 1 LI 25, FORTRESS 1 LI 30, FORTRESS 1 LI 50 Economy Tractor: PK1212. Electric Mobility: 610F Scooter, 610T Scooter, Butler EX 350, CANDY APPLE, MINI BASE SCOOTER 130, Rascal 312, Rascal 314, Rascal 318, Rascal 326, Rascal 330 Tilt, Rascal Balance 600B, RASCAL SCOOTERS, Turnabout/Stowaway Emergi-lite: 100BVC, 12EDCX100BVC Everest & Jennings: 3H, 3N, 3P, 3V, 3W, CARRETTE, Everest, HOT WHEELS, KID POWER, MAGNUM, MARATHON, MARATHON LE, METRO POWER, Metro Power III, MOBIE, MX, NAVIGATOR, QUEST, SABRE ES, SABRE LTD, SPRINT, SPRINT II, SPRINT PLUS, TEMPEST, XCALIBER Evermed: EBS, ECS Exell Battery: EB12350 Flow Mow Mower Company: Jetx2668 Ford: 100, 120, 125, 145, 165, 66, 70, 75, 80, LGT125, LGT145, LGT165, LT75, RMT66. Garden Way Troy: Built Rototiller. Gilson: GT14, GT14E, GT14HE, YT11E, YT11HE, YT12.5, YT12E. Global Research: Galaxy Starlight 1 Models, Starlight 2 Models, Starlight 3 Models.
Golden Technology: Alero, Companion, GES 600, GOLDEN COMPANION, Golden Companion II, GSE 300, GSE 400, GSE 700, HAWK, Rgent Scooter Sterling, Scoota, Scoota Bug, Sterling Gravely: YT10, YT11. Gravley Corporation: 1132, 1138, 408, IHDE-126, IHDE-130, IHSE-126. Hanicare: 1700FS, 1704FS, 2000FS Four Wheel, 2000FS Three Wheel Heilman Enterprises: 11-76, 11-77, 11-78, 220, 440, 445, 550, 555., 8-76, 8-77 High Lites: 12HD17 Homelite: 53107, 53146, 53148, 53200, 53215, 53275, 53300, 53330, 730-OLE, GT12G, GT12H. T-8 Hoveround: ACTIVA DM, ACTIVA FORERUNNER, ACTIVA GLX, Activa LX, Affinity, Balero, HRV 100, MPV 2, MPV 3, MPV 4, MPV1, MPV5, Transporter GL Hubbell: 702836 Hustler: 53107, 53146, 53148, 53200, 53215, 53275, 53300, 53330, 730-OLE, GT12G, GT12H. T-8 Imc Heartway: Bolero, Bolero S, Era607, Era607 CL, Era607RL, Escape, Escape DX, Escape H, Escape HD, Escape LX, Escape S, Escape SX, Fantasy, Fantasy R, Fantasy RT, Mirage, Mirage C, Mirage K, Nomad 3, Nomad 4, Picnic, Rumba, Rumba HD, Rumba S, Rumba SF, Rumba SR, Smart C, Smart PT, Smart RT, Spring, Spring P, Tango, Tempo, Tiara, Tiara R, Venus, Zeus Inc.
Invacare: BOOSTER, CAT, CAT BASIC, EXCEL, Excel 250-series, Excell FWD Capt, FLYER, FWD JR. JAGUAR, Leo, LX3, LX3 PLUS, LX4, M41, M61, M71, Nutron RSI, P4000 XDT, P7E, P9000XDT, Panther LX4, Panther MX4, Power 9000 (16" or wider), Power 9000 14" or Less, POWER TIGER, Pronto 250, PRONTO M50, Pronto M51, PRONTO M6, PRONTO M71, Pronto R2 250-series, R32, R32LX, R50LX, R51, R51 LX, RABBIT, RANGER II, Ranger II 250-S FWD, Ranger II 250-S MWD, Ranger II 250-S RWD, Ranger MWD, TDX Spree Power, TRI ROLLS, Tri Scout I, Tri Scout II Jacobsen: 53107, 53146, 53148, 53200, 53215, 53275, 53300, 53330, 730-OLE, GT12G, GT12H. Lawn Boy: 9303E, 9325ES, 9328E, 9328ES, 9329ES (After 1975), 9329ES (Before1976), 9365ES, 9368E, 9368ES, 9369ES, 9369ES (After 1975).
Leisure Lift / Pace Saver / Burke Mobility: Eclipse (All), Espree (All), Junior Premier, Pace Saver, Passport (All), Plus III (All), Scout M Series M1, Scout M Series M1 PBR, Scout M Series M2, Scout M Series PBR, Scout Midi-Drive NP, Scout Midi-Drive RF, Viva Lithonia: BAT603, ELB1228, ELM10, ELU23, ELU8, EMB212801, EP1212, EP121226, FA525, MA1000E, MA1000E PAK, RBAT12, SLA 12-12, TC1212 Medline Industries: Gemini 2, Strider Midi, Zenith Merits Health Products: MP1IA, MP1IA FR, MP1IN, MP1IN FR, MP1IW (Travel Ease), MP3C, MP3CF, MP3F, MP3U, MPC3R, Pioneer 3 (S132), Pioneer 3 (S43), Pioneer 4 (S142), Pioneer 4 (SP44) Meyra: Champ, Cityliner 312, Cityliner 412, Sentomatic Minneapolis: Moline All Models. Allis - Chalmers 830 Sprint, T811, T816 Moridge Mfg. Mtd Products: 387, 397, 455, 485, 495, 497, 525, 667., 760 National Power: GT160S5, GT180S6 Ortho-kinetics: Boxter, Bravo, Bravo Plus, Colt, Cyclone, Encore, Excel Series, Explorer, Lark 3, Lark 4, Lark XT, MVP, Pony, Sierra, Triumph Orthofab/ Lifestyles (fortress Wheelchairs): 1000FS, 755FS, Commuter, Star 3 Scooter, Star 4 Scooter, Titan Scooter 50 Otto Bock: A200, Skippi Pace Saver: Eclipse Premier Titan, Espree Atlas, Espree Premier, Fusion 3-Wheel, PLUS III ALL, Plus III Jr Permobil: X850 Corpus Pillar Technology: 4 Wheeler 409 /410, Blazer Plus D5722, Deluxe Snappy, EXPRESS, EXPRESS LX, POWERCHAIR, SPECIAL EDITION Poloren Products: 6502M, 6504M, 8900 Series, 9503M, 9900 Series. Power Battery: PRC1230X, PRC1235X, Wheelchair: Power King: 1212.
Pride: Boxster (discont), Celebrity XL, CYCLONE, DYNAMO, Dynamo (discont), JAZZY 1103, JAZZY 1113, JAZZY 1113 ATS, JAZZY 1143, Jazzy Jet 3 Ultra, Jazzy Select Traveller TSLTRAV, JET 7, JET3, Laser, LEGEND, LX, REVO, Select, Select 6 Ultra, Select Elite, Select Traveler, SHUTTLE, SUNDANCER, VICTORY, Victory 10, Victory 9, Victory 9 PS Quantum Rehab: Freestyle / Aspire, P110, P190, Q1103, Q610, Q610 Pediatric, Quickie P110 (14 wide), Rhapsody. S525, V100, V121, V121 (14" wide), V521, V521 (14" wide), Z500, Zbop Ranger All Seasons: 1X3, 2X3, Cobra, Electric Mobility Butler, Freedom, Power Chair, Rascal Cycle Chair, Rascal MWD, Rascal Scooter. SAFARI, Safari LTD, SOLO, Solo HD, Solo IV, Solo IV HD, Solo IV LTD, Solo IV LTD HD, Solo LTD, Solo LTD HD, Solo XT 550, Spirit Roof Mfg.
492683, 493071., 493081 Root Mfg. 830-E Sears: 502.23365, 502.23366, 502.2561128, 502.2561321, 502.2561576, 502.25617, 502.25619, 520.25538 (before 1967), 520.257100 (before1967), 520.25800 (before1967), 917.25424, 917.25431, 917.25435, 917.255, 917.25541, 917.25558, 917.25582. Shoprider Mobility: 6 Runner 10, 6 Runner 10 DLX, 889-3, 889-4, FPC (PHFW-1118), FPC (PHFW-1120), Jetstream L(888WAL), Jetstream M (888WAM), SOVEREIGN 888-3, SOVEREIGN 888-4, Sprinter, Streamer (888WA), Streamer (888WNL), STREAMER 888W, Sunrunner-3 888B-3, Sunrunner-3 Deluxe 888-3L, Sunrunner-4 888-B4, Sunrunner-4 Deluxe 888-4L, Trooper Speedex Tractor Co. 1020, 103, 1240, 1240M, 1320, 1330, 1632, 1640, 1640M, 1722, 1822, 820, 840, S-17, S-18. Suntech: Bec 40 Series, Indigo 3 & 4, Regent 3 & 4 (new series), SCOOTA, SCOOTA BUG, STERLING, Targa 14, Targa 16, Targa 18 Technacell: 4520615, 476746 Theradyne Investigator: Power T Bird.
Topaz: 1000, 1050, 10500002, 1050002, 32200R, 450BA, 500VA, 83001, 83003, 83186-01, 83186-03, 83256, 8325603, 83265-01, 84126, 8412601NN, 84130, 8413001NN, 8413046, 84461, 84462, LCL12V33P, MICRO2 1300VA, PS12300, R1234 Toro: 11-32, 11-38, 11-44, 57300, 57351, 57356, 57360, 7-25, Grandmaster 117., TE10, TE12 Troy Built Troy: Built Rototiller. Tru-test: 2-832E5, 3-83DE-5, 6-1036E5, 7-1036DE-5, WDE-10365, WDE-8325, WE-10365, WE-8325. Tuffcare: 3 Wheeled Scooter 3200, 4 Wheeled Scooter 4300, CHALLENGER, Challenger 2000, Challenger 5000, Challenger 6000, Challenger DN1450, Challenger DP1200, Challenger DX1500, Challenger FX1700, Challenger Pediatric 1000, Challenger PP5500, Challenger PX6500, Challenger Recliner 2040, ESCORT, LIMO, Value Shopper Scooter. Turfmaster: 12/36, 12/39., Voeller Wheel Horse: 11-32, 11-38, 11-44, 57300, 57351, 57356, 57360, 7-25, Grandmaster 117., TE10, TE12 White Outdoor Products: GT-1000, R80, T100, T80, T800, T85. Win Med: Anello, Chanson, Chanson IV, Piva Compact, TANGO ELITE Woods: 1250, 1850.
Yamaha: Inc Scram Jet Magnum, Rhino. 13518, 13735, 14805, 3260, 3960. Zip'r Mobility: Riding Mower, Zip'r PC. Since 2004, Batteries In A Flash has served hundreds of thousands of customer worldwide!
Batteries In A Flash is a retailer and wholesaler of quality batteries and chargers. We carry a full line of batteries and serve all consumer electronic, commercial, industrial, military and government needs.
We make every effort to get your order to you. Weekend orders from Friday after 1:00 P. Will be processed on Monday. We will make every effort to correct your order in a reasonable amount of processing time.
Should you have any questions regarding our policies please contact our Customer Service Specialists. Our customer service is here to help you.
We can assist to help you finding the correct product or cross referencing your product. If you are unsure or just want to confirm your selection, give us a call. 12V 110Ah Sealed Lead Acid AGM Battery Group 30H Replaces UB121000. 3pc 12V 5Ah SLA F2 Rechargeable AGM Replacement Battery UB1250 D5741 PS1250. This listing is currently undergoing maintenance, we apologise for any inconvenience caused.
This item is in the category "Consumer Electronics\Multipurpose Batteries & Power\Rechargeable Batteries". The seller is "batteriesinaflash" and is located in this country: US. This item can be shipped to United States.
Type: Rechargeable Battery
Battery Size: 2200mAh
Amperage: 35
Chemistry: AGM
Diameter: 5.19
Material: Other
Output Voltage: 12
Terminal Type: L Post Terminal
UPC: 0026190091802
EAN: 0026190091802
Brand: Exell Battery
Amp Hours: 2.2 Ah
Voltage: 1.2 V
MPN: EBC52110QTY, EBCR23305QTY, EBC5225QTY, EBC52220QTY, EBC5223QTY, EBC52210QTY, EBC5212QTY, EBC5213QTY, EBC5215QTY, EBC52120QTY
Chemical Composition: NiCd
Application: High Drain Devices