Mighty Max 12V 75AH Lithium Battery Replacement for Solar Golf Cart RV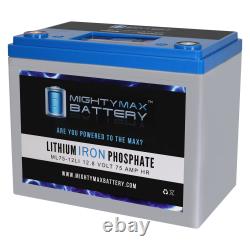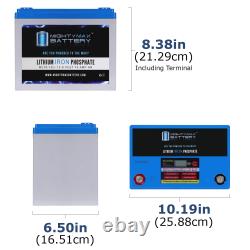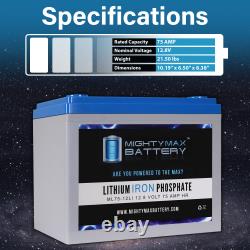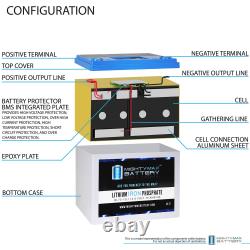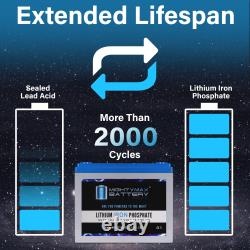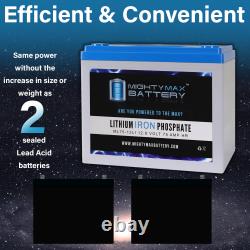 Sealed Lead Acid Equivalent Ah. Invest in power with the Mighty Max 12V 75ah Lithium Iron Phosphate Battery. The ML75-12LI will take your deep cycle battery experience to a whole new horizon. Manufactured with the highest quality components and the customers safety in mind, this battery contains a battery management system (BMS).
BMS provides all kinds of protection for the battery and customer, equipped with Over charge and short circuit protection. Weighing only 23.00 lbs. And being a direct drop in replacement for its sister sealed lead acid and Gel batteries which weigh a hefty 50 lbs. Lighter, stronger and longer life span with 2500 cycles makes this the ideal battery for all your Deep Cycle applications such as, Solar / wind energy systems, Off Grid systems, RV, Camping, Backup power systems and much more. Attention - Designed to be used in parallel or in series with a maximum of 4 identical batteries.
Make sure to only use a compatible lithium charger for this battery and tightly screw the terminals. Having loose terminals will cause a buildup of heat resulting in damage to the battery.
10.19 in x 6.50 in x 8.38 in. Mighty Max Batteries are regulated sealed lead acid batteries that are maintenance free, rugged and economical. Our batteries are utilized in a wide variety of applications including electric vehicles, wheelchairs, scooters, UPS backups, computer systems, industrial, medical equipment and more. All of our products are factory direct to you, so you are guaranteed the freshest stock in the timeliest manner. Thank you for choosing Mighty Max Battery- your no-risk battery source!