LiFePO4 Battery Grade A 4PCS 3.2V 200Ah 4000+ Cycles 12V 200AH Prismatic Cells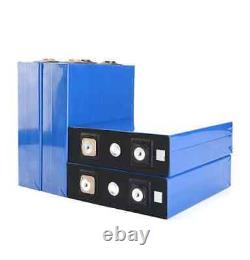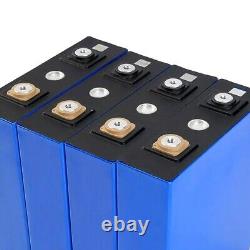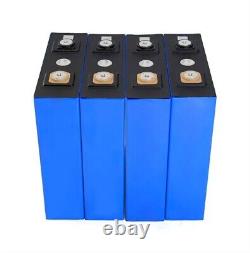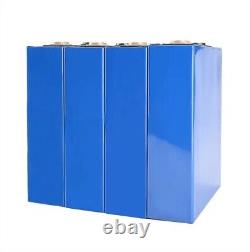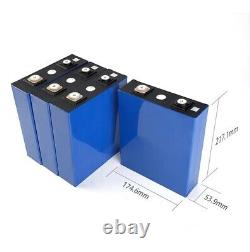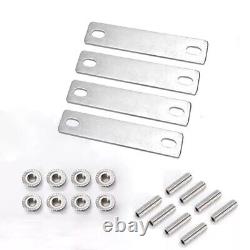 Product Name: Lithium iron phosphate cell Shell Material:Aluminium Rated capacity:200Ah Minimum capacity:200Ah Internal impedance:0.10.3mO Nominal voltage:3.2V Dimensions(LWH):21754174mm Weight:3.9±0.2kg Recommend Constant Current:200A(1C) End-of-Discharge Voltage:2.5V Recommend Constant Current:200A(1C) Charge Voltage:3.65V Max Continuous Discharge Current:200A(1C) Cycle life (80%DOD):4000 cycles Charging Temperature:-560°C Discharging Temperature:-3060°C No matter what the charging model is, once the temperature of the cell is above the absolute charging temperature, charging should be stopped. Customers should connect a BMS which is used for strictly monitoring, management and protection. Properly connect the terminals of positive and negative of the batteries. The reversal charging is forbidden.
If the polarity is reversed, the battery will be damaged and safety problem may occur. Cordless phones, cellular phones, transceivers and pagers. Digital cameras, Camcorders, Portable DVD, VCD, MD and CD palyers. Emergency lightings, Solar lights, Search lights and Flashlights. Notebook computers, Personal facimile machines, PDAs. Electric drills, Sanders, Screwdrivers, Saws, Polishers. Electric bicycles, Shavers, Massagers, Electric tooth brushes, Handheld vacuum cleaners, Handheld terminals. This item is in the category "Consumer Electronics\Multipurpose Batteries & Power\Rechargeable Batteries". The seller is "elkersolutions" and is located in this country: SI. This item can be shipped to United States, all countries in Europe.
Connector: M6
Cycle life: 3500+ Times
Warranty: 12 Months
Nominal Capacity: 200Ah
Battery Size: 174 * 54 * 217
Model Number: 3.2V 200AH
Set Type: Batteries And Busbars
Chemical Composition: Lithium Iron Phosphate (LiFePO4)
Certification: CE RoHs
Weight: 4kg
Brand: ETC
Type: LiFePo4 Lithium Iron Phosphate
Chemistry: LiFePo4 Lithium Battery
Amp Hours: 200 Ah
Product name: 3.2V 200Ah lifepo4 battery
Voltage: 3.2 V
Features: Long Cycle Life
Application: Power Storage, Golf Cart, Camping, UPS, Marine, Solar, Boat, RV, Off Grid, LiFePo4 Lithium Battery, High Drain Devices, Low Drain Devices, Solar/Wind Devices