LiFePO4 12V 54AH Lithium Battery Battery for RV Solar Marine Caravans Golf Cart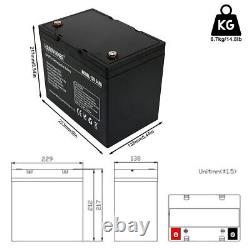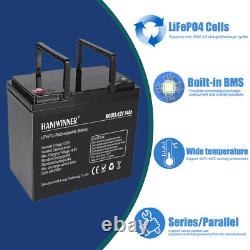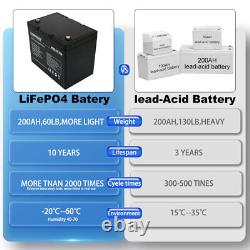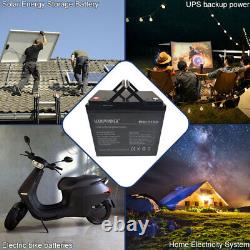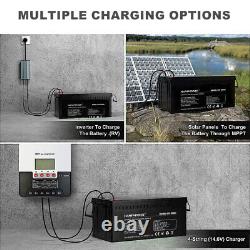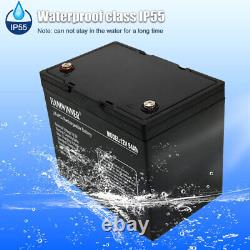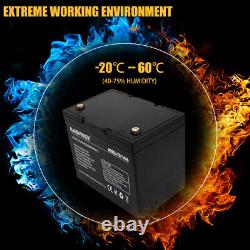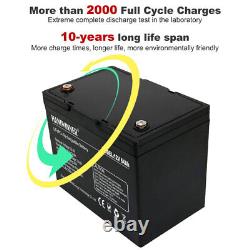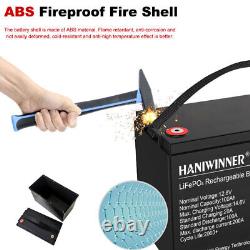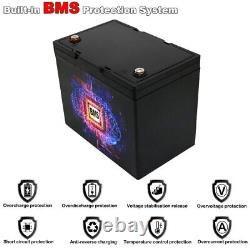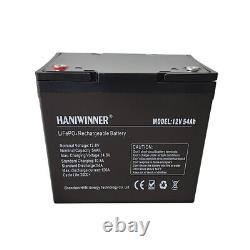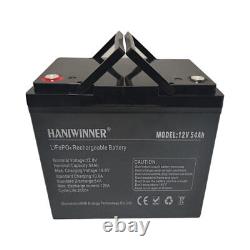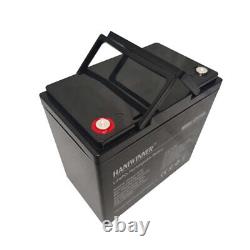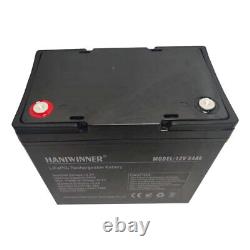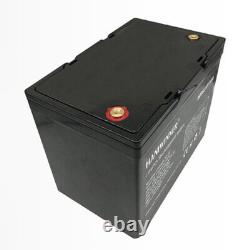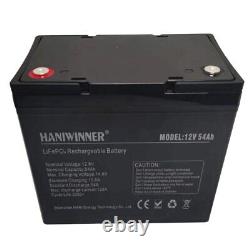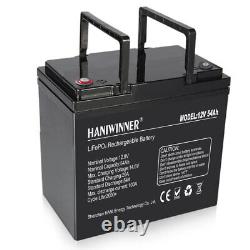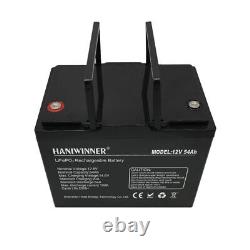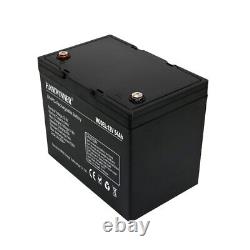 LiFePO4 12V 54AH Lithium Battery Battery for RV Solar Marine Caravans Golf Cart. Why Choose LiFePo4 Li-ion Battery? The monomer can be made into 5Ah1000Ah (1Ah=1000mAh), while the lead-acid battery 2V monomer is usually 100Ah150Ah, with a small variation range. The same capacity of lithium iron phosphate ion battery volume is 2/3 of the volume of lead-acid batteries, the weight of the latter is 1/3. Lithium iron phosphate ion battery start current up to 2C, to achieve a large rate of charging; lead-acid battery current is generally required to be between 0.1C 0.2C, can not reach fast charging performance. Lead-acid batteries have a large amount of heavy metal lead, waste liquid, while lithium iron phosphate ion batteries do not contain any heavy metals, in the production and use of pollution-free. Although lead-acid batteries due to its cheap materials, the acquisition cost to be lower than lithium iron phosphate ion batteries, but in the service life and routine maintenance of the economy is lower than lithium iron phosphate ion batteries.
Practical application results show that: lithium-ion iron phosphate batteries are more than four times the cost performance of lead-acid batteries. Lithium-ion iron phosphate battery cycle times in more than 2000 times, the lead-acid battery cycle times are usually only about 300 350 times. Lithium iron phosphate core, mature technology, high safety, 100% DOD for normal use.
Charge and discharge for more than 2000 cycles. Perfect replacement for lead-acid batteries, 40-50% lighter and maintenance-free. Built-in lithium protection against overcharge, overdischarge, overcurrent and overtemperature. Wide operating temperature range: -20°C to 60°C. Solar street lights and lighting systems.
Electric two-wheelers, three-wheelers, low-speed vehicles. Energy storage systems for photovoltaic, wind, hydroelectric, household etc. 2000 times 0.2C/100% DOD charge/discharge cycle.
Until capacity decay to 70%. Constant current 0.2C5A charge to 14.6V.
Then constant voltage 14.6V charge until. The current is reduced to 0.02C5A and then stop. (including total height of terminal block). 12V 54Ah LiFePO4 Battery Pack 1.
Please be noted: battery charger is not included. Please pay ASAP after you submit the order.
If you change your mind after submitting the order (Changed mind or have placed an order elsewhere), please take the initiative to close your order, thank you for your understanding. The logistics service provider we use is: UPS.
If you encounter a major holiday Spring Festival, Christmas... Return products without product quality issues. Unreasonable return is not supported. Return products for product quality issues. Within 12 months from the receipt, the battery is in normal use.
Without man-made damage, and the battery fails for no reason. Damage to the battery caused by the use of non-original accessories.
Failure to protect or inadvertently enter water on rainy days. Damage caused by violent use or violent destruction. Damage caused by irresistible factors such as traffic accidents, natural disasters, wars, etc. Slight scratches on the battery are. Not a product quality problem.
After receiving the goods, if the battery is not used, if you apply for a return for this reason, it will be handled as "return without reason". If you are satisfied with our products. Ive us a chance to serve you. To you within 24 hours.
And do our best to help you out! If you have any problems.
Thank you for your understanding! This item is in the category "Consumer Electronics\Multipurpose Batteries & Power\Rechargeable Batteries".
The seller is "xiaoluyigou" and is located in this country: US. This item can be shipped to United States.
Type: Lithium Iron Phosphate
Amp Hours: 54 ah
Manufacturer Warranty: 1 Year
Voltage: 12 V
Battery Size: IFR 32700
Chemical Composition: Lithium Iron Phosphate (LiFePO4)
Application: High Drain Devices, Low Drain Devices, Solar/Wind Devices
Country/Region of Manufacture: China
lifepo4 battery 12v: 12v lifepo4 battery
lifepo4 power station: 12V lifepo4 power station
lifepo4 power station 12V: 12v lifepo4 battery 50AH
lifepo4 battery 12v 50AH: 50AH lifepo4 battery 12v
lifepo4 12v battery: lifepo4 power station 50AH
power station: power station 12V
12V power station: 50AH power station
lifepo4 portable power station: lifepo4 battery
lifepo4 power bank: 12V lifepo4 power bank
Brand: HaniWinner