Krohm 48V 90Ah Deep Cycle LiFePO4 Battery Bundle For Golf Carts, RVs, and More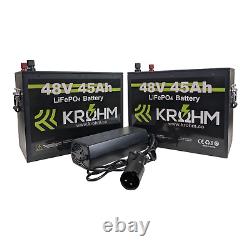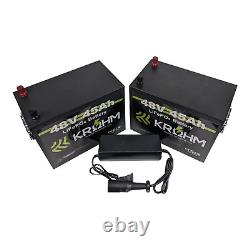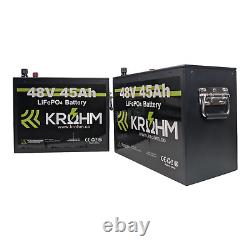 Krohm LiFePO4 batteries have exceptional quality since they are manufactured by Automotive Grade LiFePO4 Cells with higher energy density, more stable performance & greater power. Krohm LiFePO4 battery provides 4000+ cycles (10 times longer) & a 10-year lifetime which gives it 10 times the lifetime of a lead-acid.
Krohm LiFePO4 battery's flat discharge curve holds above 58.4V for up to 95% of its capacity usage, providing astronomical boosts in run-time compared to only 50% in Lead Acid. This product is your best choice for outdoor camping power and indoor easy installation. Krohm LiFePO4 battery has built-in 200A BMS to protect it from overcharge, over-discharge, overcurrent, and short circuit with excellent self-discharge rate. Operating Temp: Charge: 0°C50°C; Discharge: -20°C60°C. Our battery is IP65 waterproof, setting you free from worrying to install indoors or outdoors.
The Krohm LiFePO4 battery can be used for any of your everyday uses such as: Golf Carts, RVs, Solar, Off-Grid, Boats, and More.