Golf Cart Charger For 36V Club Car Yamaha EZGO-Crowfoot Style Plug 36 Volt 12Amp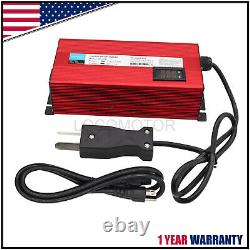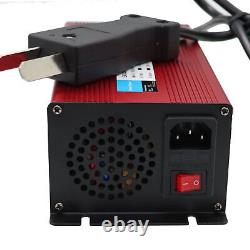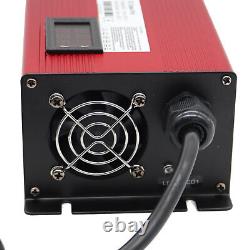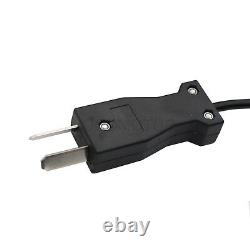 Charges 36 volt golf cart with the "Crowfoot" style plug. Only suitable for charging Lead-Acid Batteries.
Made of reinforced thickened space aluminum alloy shell ensures not rusting or fading. Five-stage charging mode to protect your battery: No-load mode, Constant current mode, Constant voltage mode, Floating charge mode, Trickle mode. Output head : Polarity N=Positive, L=Negative. Charge Plug : Crowfoot Style Plug.
36V golf cart battery charger with "crowfoot" style plug & Pre 1983 EZGO carts. 36V carts from any year from the following manufacturers: Yamaha, Cushman, Melex, Legend, Noland, Nordskog, Karrior, Westinghouse, Pargo, Taylor-Dunn, Hyundai. Replaces OE : HD 66499-82, 66499-82, 66500-69A, 66500-75, 66534-83A CC 7445, EZ 16160-G1, 16160G1, 16160-G2, 16160G2, 16160-G3, 16160G3, 16162-G3, 16162G3, 18495-G1, 18495G1, CU 816106, 818211, 818212, 877339, 879958, 880375, 882926, 883830, 884239, 890953, 885963, LE 9611, 2489098, KA 761-36, NO 600-1, TD 79-304-00, 79-332-30, 79-612-00, 79-612-10, ND 70358, 70458, 70548, 70888, A2124B87G01, A2124B87G03, A2421B87G03, A25-000-00, A25-210-00, A25-250-00 A3731C76G01, A7429D51G01, A7429D52G01, A7429D52G03.
1 x 36V golf cart Charger. 1 x Extension cord with Crowfoot Style plug.
5-Stage Smart Charging to Protect Your Battery. No-load mode: When charging, the machine is in poor contact or the battery is replaced, the charger will automatically switch to no-load mode to stand by! Constant current mode: When the battery voltage is lower than the setting voltage of the charger, it is a constant current mode, which provides a constant current for the battery to protect the battery!
Constant voltage mode: PWM accurately controls the current and output voltage of the charger to ensure that the battery is fully charged and avoid overcharging! Floating charge mode: When the battery is about to be fully charged, the charger will switch to a floating charge mode, providing a small floating charge current to charge the battery and fully charge the battery! Trickle mode: When the battery is fully charged, the charger automatically switches to trickle mode to provide a weak current, and the full value of the balance battery indicates that it is fully charged. Different Charging Functions, Different Experiences. Charging indicator : when charging, the charging indicator lights up.
Current and voltage switch : the display shows current A when the current is reached, and the display shows voltage U when the voltage is reached. Cooling fan : equipped with powerful high-power ball fan. The fan has a long life and good heat dissipation effect.
Charger power switch : Control the power of the charger. When it is turned on, the charger is powered on, and when it is turned off, it is turned off. We are not responsible for any wrong or undeliverable addresses.
We stand behind every product we sell. We define the item as defective only if it doesn't function as described. This item is in the category "eBay Motors\Parts & Accessories\Golf Cart Parts & Accessories\Golf Cart Chargers". The seller is "locomotor" and is located in this country: US.
This item can be shipped to United States.
Product Group: Automotive Parts and Accessories
Brand: Nakkaa
Type: Golf cart battery charger 36v
Warranty: 1 Year
Charger Plug: Crowfoot Style Connector Plug
Compatible Make: Club Car, Cushman, E-Z-GO, Yamaha
Output Current: 12A
Voltage: 36V
Input Voltage: 110V AC
Material: Aluminium