Golf buggy cart battery reconditioner restorer for 36 & 48 volt batteries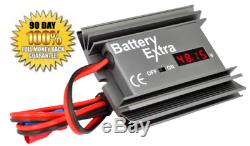 After 12 Rounds And Recharges My 2012 Trojans Are Like New Again AAAAA Great. Hi, thanks for the Battery Extra 36/48 it is working fine and saved my golf buggy batteries. This is another order for 12/24 for my sister as she was very impressed, so all good.
Just had to let you know, after taking your advice I managed to get my old Ebike batteries working again using your battery extra, it took some time but they are almost up to full capacity. Not bad for a set of batteries that had been unused for 8 years. Although we spoke recently, i would like to ask if i can give a testimony? So now less than a week my 66 ah sealed lead acid batterys on your unit that were only giving a known discharge rate to me that worked for 46 mins are now giving 1 hour 14 mins so although it seems like a majic box that you cant see working it really seems to be doing something effective!!!!!
Thats 28 mins more over a week of regular drops then re charges!!! 28 mins more already at one week is amazing!!!!!! I have 4 x 6 volt batteries in my motorhome, all had very poor sg readings. After using it for 5 weeks, all the batteries are now reading close to as new specification.
OK, results so far, we have tried to recover 7 car batteries from our scrap pile, 6 recovered good enough to use, 1 still dead. Dan you talked me into it, well you were right, it works.
Four weeks and the batteries are like new. The Battery Extra is designed to recover old or weak lead acid batteries, typically used in golf buggies / carts, that are sulphated. It will work on any lead acid battery or battery pack of 36 or 48 volts and up to 500Ah. So in effect you are getting a. This is not a short term improvement; once your batteries have been recovered it will continue to work, substantially extending the life of your batteries by keeping them in top condition. Please note the Battery Extra is not a battery charger it works with your existing charger and works best when fitted permanently to your battery pack. Also the Battery extra cannot recover batteries with internal cell damage. The Battery Extra 36/48 electronic desulfator is designed to extend the cycle life of all types of 36 volt and 48 volt lead acid battery packs that are fitted to GOLF BUGGIES, SMALL FORKLIFT TRUCKS, ELECTRIC CARS, SOLAR SYSTEMS, ELECTRIC BIKES, AND BACK UP POWER SUPPLIES.
This product works, don't take our word for it, see the customer testimonials on the left and check our feedback, you will also find more customer comments on our website. Investing in the Battery Extra could save you hundreds. What the battery companies wont tell you. What most people dont know is that 75% of lead acid batteries fail because of sulphate build up on the cells, not because they are worn out. Sulphate build up increases the internal resistance of the battery, reducing its capacity and leads to premature battery failure.
Sulphated batteries can now be successfully recovered saving the cost of expensive replacements. You can also stop sulphate build up on new batteries which could double the life of your batteries; in effect this will reduce your battery costs by 50%. The main causes of sulphate build up on lead acid battery cells are: Batteries sitting too long between charges, storing batteries without charging, undercharging batteries, low electrolyte level and incorrect charging levels. In effect all of these pulse circuit devices send a high voltage current into the battery which will break down some of the sulphate build up on the positive battery plate.
As they generally only work whilst the battery is being charged they can never fully recover a sulphated battery or protect a battery fully from sulphate build up, the high voltage spikes they generate can also damage the battery in the long term. The Battery Extra 36/48 was developed to fully clean both the negative and positive battery plates of all the sulphate crystal build up, without the need for the damaging high voltage spikes, and return them to a fully working condition. It also to eliminate sulphate build up on new batteries keeping them in top condition, ensuring they have the maximum possible life span. It works during both the charge and discharge phase of the battery cycle. The Battery Extra can be permanently attached to any 36 or 48 volt lead acid battery pack.
It uses a small amount of power from the battery to extend the life of new batteries. It also revives many weak or old batteries that are thought to be dead or need replacing. Alternatively you can desulphate one bad battery or set, and then just move it on to the next battery. The battery Extra works by creating a wide range of frequency pulses, that are designed to dissolve the sulphate crystals that builds up on both the negative and the positive plates of a lead acid battery. It is this sulphate build up that reduces the batteries capacity. Gently dissolving the sulphate crystals back into the electrolyte, lowers the internal resistance of the battery, and raises the specific gravity. Ensuring that you keep, or return, your batteries to their maximum capacity.
It works during both charge and discharge cycles with no need for a special charger or any external power supply. Will work on all types and brands of lead acid battery, including GEL, AGM, Maintenance Free, Deep Cycle, Sealed and Leisure. In addition to recovering sulphated batteries, by fitting the Battery Extra to your battery or battery bank you could double life of good batteries. What size of batteries will the Battery Extra work on?
The Battery Extra 36/48 will work on all 36 volt and 48 volt lead acid battery packs up to 500 Ah. If your battery pack is over 500 Ah. Is the Battery Extra tested to EU standards? The Battery Extra is CE marked and has been fully tested in the UK and complies with all necessary standards, including European Union Directive 2004/101/EC ESA Radiated Emissions, this is very important, and you should check that the desulfator you are considering has passed this European test.
If not it could interfere with the other electronic devices attached to your vehicle or system. The effectiveness of a desulfator is a function of its power output and the ability to produce a wide range of frequencies. The Battery Extra desulfator has an external heat sink for cooling because the electronics need the cooling area to handle its high power output. The Battery Extra desulfator is not a toy made of plastic! It is made of durable corrosion resistant aluminium. It will not break if dropped or hit.
The electronics are fully protected, durable, and comes with a 3 year warrantee. On new or sulphated batteries it WILL work every time. The Battery Extra will not work with batteries that have damaged cells or sealed batteries that have dried out, but this is the best bit. So you have nothing to loose and everything to gain. So what are my choices?
Ignore this listing and keep lining the pockets of the battery companies... This is not very sensible.
This makes a lot sense to us. We are a specialist in the battery field, and have been in the battery business for more than 20 years, supplying battery packs and battery management solutions. Dual voltage 36 and 48 volt. Maximum current draw 200 mA. Automatic low voltage cut off.
Short circuit protection built in. EMC tested to EU standards. Works on all types of lead acid batteries.
Easy installation via ring connector or crocodile clips. The item "Golf buggy cart battery reconditioner restorer for 36 & 48 volt batteries" is in sale since Monday, September 25, 2017. This item is in the category "Sporting Goods\Golf\Other Golf".
The seller is "battery_saver" and is located in corby, northhamtonshire . This item can be shipped worldwide.
MPN: EX01 12-48-200
Country/Region of Manufacture: United Kingdom
Brand: Battery Extra