Dakota Lithium 48V 96Ah Deep Cycle LiFePO4 Battery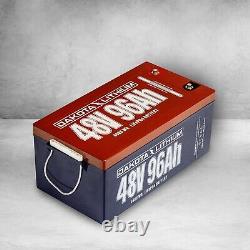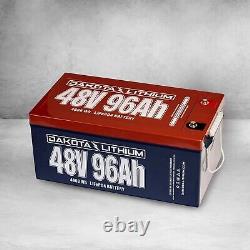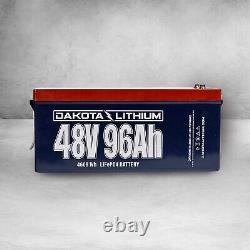 Dakota Lithium 48V 96Ah Deep Cycle LiFePO4 Battery with 8A Charger. Built Dakota tough, this single 48 volt lithium battery will help you play longer and go further with twice the run time for your golf cart, electric vehicle, or electric outboard motor, while lasting 4x longer, providing exceptional lifetime value.
Built out of our legendary lithium iron phosphate (LiFePO4) cells, this battery requires no maintenance or watering, can be installed in any orientation, and can charge 5X faster then lead acid - giving you more time, and more freedom. The best part is this single Dakota Lithium battery weighs 1/4 as much as a set of lead acid golf cart batteries, allowing you to cut 300 lbs or more off your cart.
With a whopping 5kWh of deep cycle power inside of a single power source, this is the largest battery Dakota Lithium makes and it optimized for deep cycle and marine applications like 48V solar energy storage, 48V electric outboard motors, 48V golf carts, or any 48V application where you need steady power for a long time. Free 48V 8A amp LiFePO4 chargers included! Experience the Dakota Lithium Difference The DL 48V 96Ah battery is built with Dakota Lithium's legendary LiFePO4 cells. 2,000+ recharge cycles (roughly 5 year lifespan at daily use) vs.
500 for other lithium batteries or lead acid. Optimal performance down to minus 20 degrees Fahrenheit (for winter warriors).
Plus twice the power of lead-acid batteries at half the weight. STORAGE CAPACITY 96 ampere hours (Ah). Dakota Lithium batteries provide consistent power for all 96 amp hours. DL LiFePO4 batteries have a flat voltage curve, which means they have a steady power output as the battery discharges. The power output will not dramatically drop like similar sized SLA batteries. You get all the juice down to the last drop. ENERGY 4,915 Watt hours (Wh) per battery (4.9 kWh power system). TERMINALS F12 terminals (posts that screw in) with M8 terminal bolts included. Easy to adapt to different connection needs. That's 80% lighter than a set of lead acid batteries, saving 300 lbs.
SIZE 20.5 in (520mm) L x 10.5 in (267mm) W x 8.66 in (220mm) H. BATTERY RANGE For carts with a max speed of 23 mph or less expect a battery range of 40 - 60 miles depending on cart model. For carts with a max speed of 27 mph expect a battery range of 30 - 40 miles. Wire 2 units in parallel to double the battery range.
LIFECYCLES (BATTERY LIFESPAN) Up to 100% capacity for 2,000 recharge cycles (100%DOD), 80% capacity at =4,000 recharge cycles (80%DOD), 50% capacity at =6,000 (50%DOD - battery half life). The typical SLA has 500 cycles. Dakota Lithium batteries last so long that the price per use is a fraction of traditional batteries. OPERATING TEMPERATURE Ideal for rugged & harsh environments.
Much better than SLA or other lithium's. 20'F min, +120'F max optimal environmental operating temps.
This item is in the category "Consumer Electronics\Multipurpose Batteries & Power\Rechargeable Batteries". The seller is "stellavolta" and is located in this country: US. This item can be shipped to United States.
Brand: Dakota Lithium
Type: 48V
Amp Hours: 96 Ah
Voltage: 48 V
Custom Bundle: No
MPN: DL-48V-96AH
Battery Size: 48V
Chemical Composition: Lithium Iron Phosphate (LiFePO4)
Application: Golf Carts, Fishing, Solar/Wind Devices