Club Car Golf Cart Battery Charger 36 Volt 18 Amp Crowsfoot Connector DPI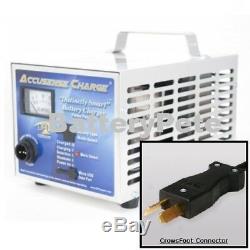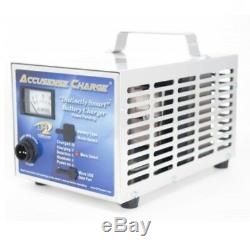 Club Car Golf Cart Battery Charger 36 volt 18 Amp - Crowsfoot. This 36 volt 18 Amp Accusense Intelligent Golf Cart Battery Charger is perfect for your golf cart batteries. The All New 4th Generation DPI Golf cart Battery Charger is finally here. Now with lower energy consumption over traditional transformer style chargers while still applying the same high amperage rate to your golf cart batteries. Now you will never get stuck without a charger for your golf cart because with DPI's new interchangeable DC output cords you can change cords to charge other golf carts that operate on the same voltage.
Also newest feature for snowbirds or seasonal golf cart owners - designed to shut off after charge complete - then if still plugged in after 28 days in storage mode it will turn back on to maintain the proper battery voltage in your batteries while away. Designed to be used on any 36 volt golf cart battery system with the proper DC power cord.
DPIs 36V/18A Gen IV Accusense Charge® Intelligent Battery Charger is powered by a smart, microprocessor-controlled, multi-stage charge algorithm for various battery types used in golf carts and other electric or industrial vehicle applications. Our 36V/18A battery charger outperforms tapered-type chargers rated at 35A! Patented selector and downloadable custom algorithms allow users to charge most every battery type. Designed to be used on any 36 volt battery system that uses the crowsfoot connector and charging port.
The Intelligent Microprocessor Controlled Multi-Stage Charge Algorithm is designed for various Lead Acid Battery types used in Golf Carts, Electric vehicles and other Industrial EV applications. Diversified Power International has been manufacturing battery chargers of all shapes and sizes right here in the good ole US of A for decades. This Heavy Duty 36 volt golf cart battery charger has a weatherized construction that is durable and ensures reliability.
Studies have shown this type of charger outperforms other battery chargers that claim to be rated at up to 35 amps. Works great on all older style Club Car, EzGO, Fair Play, and Yamaha golf carts that utilize the crowsfoot connectors and operate on a 36v battery system. DETACHABLE OUTPUT CORD ALLOWS FOR VARIOUS CABLE CONNECTOR OPTIONS, INCLUDING UNIVERSAL CONNECTION TO ALL DPI CHARGERS LARGE ANALOG METER WITH 5-L. LINE POWER-GOOD AND DISRUPTION GREEN/RED L. DISCONNECT RELAY MICRO-USB INTERFACE TO USB ALLOWS USER TO INSTALL CUSTOMIZED ALGORITHMS AND UPGRADE CHARGER SOFTWARE 32 CHARGE MODES AVAILABLE VIA USER ACCESSIBLE SWITCH: LARGE AND SMALL CAPACITY BATTERY FLOODED, AGM, SEALED MULTI-CHEMISTRY CAPABLE DOWNLOADABLE ALGORITHMS FOR MANY OTHER TYPES OF BATTERIES USER ENABLED ON-DEMAND-CELL-EQUALIZATION CHARGE LOWER PROFILE, NEW HIGHER EFFICIENCY CONSTRUCTION STAND ALONE OR ON-BOARD MOUNT WITH AVAILABLE PRE-FORMED BRACKETS, WHICH ALSO ALLOWS FOR DROP IN REPLACEMENT INTO FOOTPRINT OF COMPETITORS PRODUCT 100% INPUT TO OUTPUT GALVANIC ISOLATION WET LOCATION ISOLATION PROTECTION FROM A.
Pete's Team is standing by to help you! The item "Club Car Golf Cart Battery Charger 36 Volt 18 Amp Crowsfoot Connector DPI" is in sale since Saturday, September 10, 2016. This item is in the category "eBay Motors\Parts & Accessories\Golf Cart Parts & Accessories\Golf Cart Chargers".
The seller is "batterypete" and is located in Pompano Beach, Florida. This item can be shipped to United States, Japan, China, South Korea, Bangladesh, Pakistan, Canada, Maldives, Sri lanka.
Part Brand: DPI Accusense Intelligent Charger
Country of Manufacture: United States
Country/Region of Manufacture: United States
Manufacturer Part Number: BP-1RB-36F018E00-E00-CF
Compatible Year: 2010
Brand: DPI
Compatible Make: Club Car
Warranty: Yes
Voltage: 36V