Battery Life Saver BLS-36N New 36V Golf Cart Battery Life Extender EzGo Club Car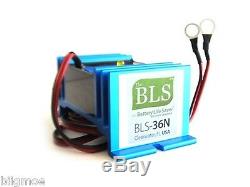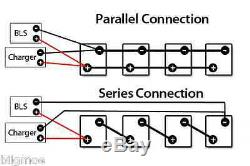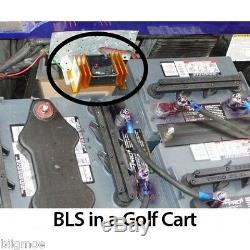 BLS-36N - Battery Desulfator / Rejuvenator for Newer Electric Golf Carts - Save / Recover Weak or Worn Out Golf Cart Batteries. Designed to be used with 36 volt golf carts. Works with ALL 48 volt Electric Golf Carts. THIS WILL NOT FIX OPEN OR SHORTED BATTERIES. A Permanent Mounting of this product is suggested for optimal results.
Comes with 3/8 eye rings for attaching the unit to your batteries. Should be used on new or good working batteries to extend battery life.
PLEASE LET US KNOW WHAT QUESTION YOU MAY HAVE AS WE ANSWER ALL EMAILS IN 24 Hr. Brings old and weak batteries back to life. Maintains working batteries in optimal condition. Extends battery life by preventing the build-up of lead sulfate. Why is the BLS needed?
75% to 80% of lead acid batteries fail prematurely because of formation of lead sulfate on the plates. These crystals cause batteries to become unusable at approximately one-third of their natural life. The BLS dissolves the lead sulfate crystals. Why is the Battery Life Saver electronic device "The Most Effective Desulfator Available"? There are a number of other electronic products available on the Internet which claim to be desulfators.
The ones known to me are Pulse-Tech, De-500, Nano-tech, BES Technologies, and home-made circuits as described by Alister Couper. All of these products are best described as pulsers and are based on an approximation of a Dirac delta function. These have a serious short-coming in that it is impossible to produce a Dirac delta in the physical universe. It is approximated by a very rapid rise of voltage in the leading edge of the pulse and generation of a high voltage pulse.
To the degree that these products can produce a rapidly rising high voltage spike, they can be only somewhat effective at exciting natural frequencies of crystals. However, the pulses are of such short durations that very little power can be delivered to the crystal to cause it to dissolve -- again power is the area under the curve. The Battery Life Saver electronic device square wave signal can excite all of the frequencies above it and is easy to produce, in that it is a real function, meaning it exists in the physical universe. The square wave signal is generally a low voltage signal, usually less than one volt with most batteries, and delivers enough power to cause the crystals to dissolve. How do I use it? The best way to use the BLS is to connect it and forget it. Connect the red wire to the positive battery terminal of the first battery and the black wire to the negative terminal of the last battery. If you need to rejuvenate your batteries, connect the BLS and use the system as normal. Every time the system is charged and discharged the BLS will be gradually rejuvenating the batteries. Depending on the size and condition of your battery system it could take a week to 5 weeks to completely rejuvenate a system. Using our patented square wave technology, the BLS sends a frequency signal to each crystal of lead sulfate, causing it to dissolve into lead and sulfuric acid.
This restores the battery to its original condition and allows the electrical charge to be drawn from the battery. Benefits of Using the BLS. It makes old batteries as good as new.
With the BLS, more power is available from your battery and you need less power to charge it. By reducing the number of batteries that get thrown away and put in landfills, the BLS protects the environment. The item "Battery Life Saver BLS-36N New 36V Golf Cart Battery Life Extender EzGo Club Car" is in sale since Wednesday, April 16, 2014. This item is in the category "Consumer Electronics\Multipurpose Batteries & Power\Other Multipurpose Batteries". The seller is "biigmoe" and is located in Clearwater, Florida.
This item can be shipped worldwide.
Brand: Battery Life Saver
Model: BLS-36N
MPN: BLS-36N
Country/Region of Manufacture: United States
Country of Manufacture: United States
Connection: Rings
Voltage: 36 Volts
Compatible With:: Club Car, Yamaha, Ezgo, Taylor Dunn, Star and More
Product Type: Battery Desulfator
Modified Item: No
Custom Bundle: No
Type: Battery Desulfator