48V 15A Battery Charger with RXV Plug/LED For Club Car EzGo Yamaha Golf Cart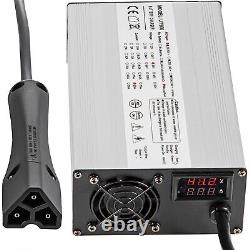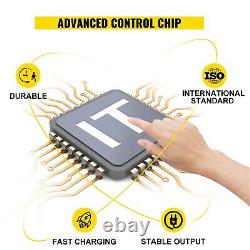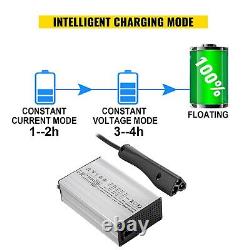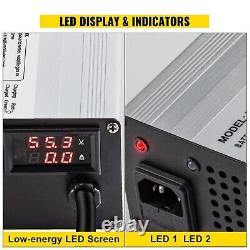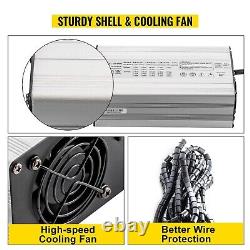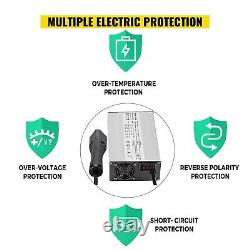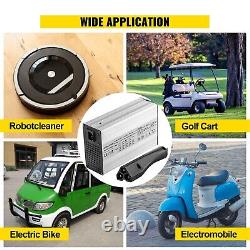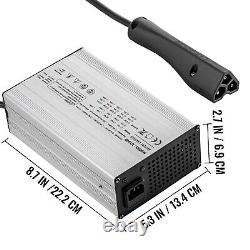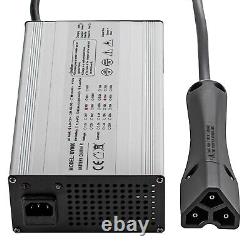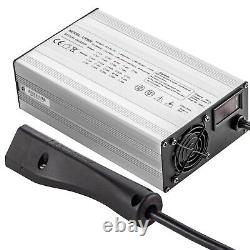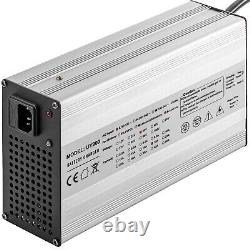 48V 15A & RXV Plug Golf Cart Charger. The listing is about a 48V 15A golf cart battery charger with the RXV Plug. This club car charger is equipped with an all-aluminum alloy casing and three-stage charging mode with trickle mode charging to achieve higher working efficiency. LED screen and 2 LED indicator lights are applied for monitoring the charging status indication.
It is a practical and powerful charger for golf carts, e-bikes, e-scooters, etc. Note: Don't worry when the battery voltage exceeds 48V because it is 58.8V when it is fully charged.
(1) The charger displays two red lights under normal charging. (2) When a red and green light is on, the battery is full. (3) Fully charging a brand new 60AH battery needs 4-6Hours, it depends on the capacity or aging. Tough Equipment & Tools, Pay Less. VEVOR is a leading brand that specializes in equipment and tools.
Along with thousands of motivated employees, VEVOR is dedicated to providing our customers with tough equipment & tools at incredibly low prices. Today, VEVOR has occupied markets of more than 200 countries with 10 million plus global members. A high-performance IT chip is applied to offer optimal charge experience and achieve high output stability, which will charge faster and more accurately. Efficiency is more than 85%, and the connection type is RXV Plug.
The trickle charge mode prevents overcharging and keeps your batteries in tip-top condition. 3-Stage charging mode indicates Stage 1: CC(Constant Current), Stage 2: CV(Constant Voltage), Stage 3: Floating. With an LED screen and 2 LED indicator lights, it's convenient and straightforward for you to check the battery charger's condition.
LED1 RED indicates AC power on. The LED2 RED indicates charging, and the LED2 GREEN indicates charging fully. Sturdy Shell & Cooling Fan.
The golf cart charger is made of aluminum alloy material, which has a high strength to resist compression and deformation. A built-in cooling fan effectively reduces the operating heat.
Extra wire protective casing protects the power cord well. There are some main protection measures for this golf cart electric charger: short circuit protection, over-voltage protection, over-temperature protection, reverse polarity protection, over charging protection, over current protection. This golf cart battery charger is suitable for charging Lead Acid or Silicon type batteries.
It is widely used for all Golf carts with a 36V system, such as E-Z-GO, Yamaha, Club Car, Star, Taylor Dunn. Output Voltage: 48V (58.8V48V). Charger Plug: Triangle 3-Pin, RXV Plug.
2 LEDs: LED1 Red (power on), LED2 Red/Green (charging/full). Charging Mode: 3-Stage (CC, CV, Floating). Compatible With: E-z-Go, Club Car, Yamaha, Star, Taylor Dunn. Dimensions (L x W x H): 249 x 134 x 69 mm/9.8 x 5.28 x 2.72'. 1 x Golf Cart Battery Charger.