36V and 48V Golf cart Charger 18-Amp Smart Charger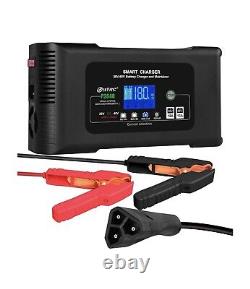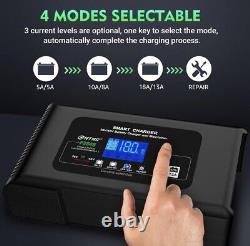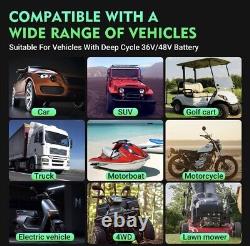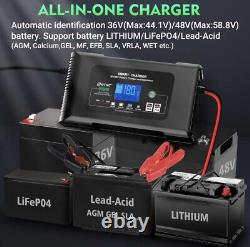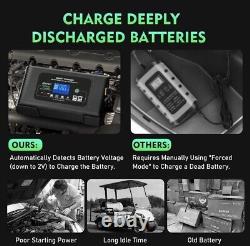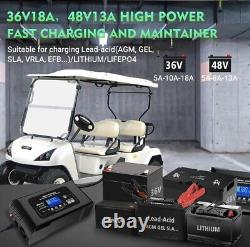 [widely used] 18Amp charging current can quickly fill your golf cart, manually select 36/48V battery, quick charging, 36V 18Amp, 48V 13Amp ultra-high power, deep cycle battery charging, do not damage the battery. Lithium, LifePO4, Lead acid AGM/GEL/EFB, MF, Flooded battery, VRLA, SLA, wet battery.. [Protection and Maintenance] 9level fast intelligent charger, temperature compensation, cooling system, over current, over voltage, short circuit and reverse connection protection, no spark, refractory material, multiple protection, safe and reliable. Input voltage :100-240V 50/60Hz, Max output voltage/current :36V 18A, 48 V 13A.
[Automatic charging]Switch to choose 36V and 48V batteries, CPU monitors the charging process intelligently. When fully charged, it automatically enters trickle charging, detects sulfate layer and acid layer, and adopts the latest pulse repair function to restore lost performance and extend battery life. When the battery is seriously low, the maximum charging current can be adjusted intelligently up to18 amps.
[Safe Charging] Intelligent charger, large LCD display of charging and battery status;Charging voltage and current, internal temperature, charging percentage, summer, winter mode, etc. The operation process is simple, just plug in the power, select the battery voltage and charging current, you can charge the battery intelligently. Battery charger, battery maintenance, trickle charger, battery desulfurization integrated battery solution.
Make it safer for you to charge.