36 Volt 18Amp 48V Golf Cart Battery Charger for Ez Go Club Car EZgo TXT Plug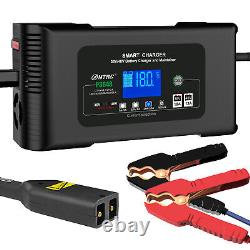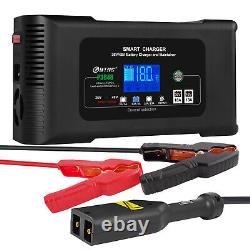 HTRC 36V/18A 48V/13A Golf Cart Battery Charger for EZGO TXT Club Car Yamaha AGM LiFePO4 PB Lithium Lead Acid Battery Repair. Q1: Can't reach the maximum charging current? A1:To protect the battery, the system automatically identifies the battery voltage and selects the most appropriate current to charge the battery. When the battery voltage is low (for example, the 36V battery voltage is less than 30V), the system automatically charges the battery at the maximum current. (3 gears can adjust charging current, large current, fast charging).
Q2: The LifePO4 battery is not fully charged? A2:When the battery is fully charged, it has a callback function, reducing the charge by about 1V. Added a small current after full charge uninterrupted charging.
Q3: What battery type can charge? A3:Lithium, LiFePO4, Lead-acid AGM, GEL, EFB, MF, FLOODED, VRLA, SLA, WET, etc. Motorcycle, Boat, SUV and More. AC input: 100-240 V 50/60Hz. Output voltage :36 V / 48 V.
Max 18A(36V), Max 13A(48V). Power and load :MAX 650W. Suit for :Lithium/LiFePO4/Lead-Acid AGM, GEL, EFB, MF, FLOODED, VRLA, SLA and Wet batteries.. 1X 36V/48V Car Battery Charger.
1x 2M Extension Power Cord.