2PC US US8VGCHC-XC2 8V 183Ah Deep Cycle Lead Acid Battery Golf Cart RV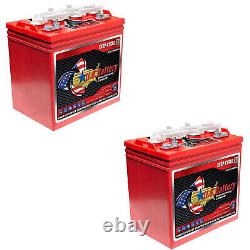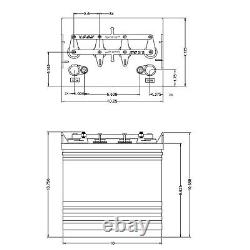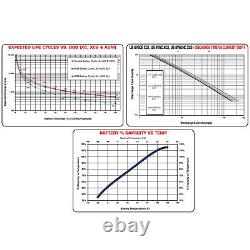 Emergency Lighting / Exit Sign. FRS / 2-Way Radio Batteries. Car Alarm / Key FOB Batteries. 2PC US US8VGCHC-XC2 8V 183Ah Deep Cycle Lead Acid Battery Golf Cart RV. US8VGCHC-XC2 8V 183Ah Deep Cycle Lead Acid Battery for Golf Carts RV.
S 6V Deep Cycle Flooded Lead Acid batteries are engineered and proven to provide the fastest cycle-up to full rated capacity, and have the highest total energy delivered over the life of the battery. Battery FLA batteries utilize the company? Formulation and Diamond Plate Technology? The high charge efficiency design also meets new California Energy Commission regulations for combined charger/battery charge efficiency. S unique design and variety of sizes in 6, 8 and 12-volt applications, the FLA batteries offer the most compatibility with the wide range of chargers used in the field.
S proven manufacturing processes, along with its reliable and dependable service, continues to be the most trusted world-wide brand for more than 88 years. Deep cycle batteries are constructed to maintain a continuous flow of energy. Some applications which require deep cycle batteries are golf carts, RVs and campers, as well as appliances run by solar power.
They are designed to endure the frequent, complete discharge and recharge required by these applications. They are made with thicker plates which deliver less peak current but are less susceptible to degradation caused by cycling.
US8VGCHC-XC2 8V 183Ah Deep Cycle Lead Acid Battery Specifications. Terminal Types: UTL, UT, OFF-Set "S", Dual, SAE, Large "L", Small "L", Flat Block. Depending on your location within the U. Call one of our sales representatives today!
Arvin: T-105 Ballymore Company Inc. HW1-10, HW1-7, HW2-13, HW2-16, HW3-19, HW3-22, HW4-24, HW4-27, PS-10, PS-11 Clarke Industries Inc. 26i, 32i, I-24 Columbia Parcar/Seats Inc.
1230ES, 1532E, 1932E, 2030ES, 2033E, 2046E, 2630ES, 2646E, 2685E, 3246ES, NLI, SPN16-10, SPN20-7.5, SPW19-15, SPW24-7.5 John Deere: E-Gator Kent/Euroclean: 35R, Blue 32, KA-200BST, KA-201B, KA-261, KA-262B, KA-266EB, RoboKent Scrubber Vac, RoboKent SweeperVac, SelectScrub 20B, SelectScrub 20BT, Stainless Steel Model 20, Stainless Steel Model 26 Mayville Engineering: 1532ES, 1932ES, 2033ES, 2548HT, 3068ES, Hite-Master Minuteman International Incorporated: 1000B, 1100, 1200B, 24B, 320, 32B, 950, B53, KS57, MC32037, MC32038, SBR50, SBR60, SBR70, SBR85, VAC-35 Mk East Penn: 8GGC2 Multi-Clean: 1000B, 1000SB, 1100, 1200B, 24B, 32B, ACS, B53, KS57, SBR50, SBR60, SBR70, SBR85 Niftylift Inc. SP 26, TM24, TM33 Nilfisk-Advance: 1000, 20 UHSB, 20 UHSBD, 2000, 2000B, 200B, 200HD, 200LX, 2052B/HM, 20B, 210B, 21B, 240, 240LX, 24B, 2500, 2500B, 260B, 265LX, 26B, 26BF, 2700, 280, 285LX, 28HD, 28LX, 320, 3200, 3200C, 325LX, 32B, 32BD, 32LX, 34HD, 3800, 385HD, 385LX, 38BD, 38LX, 5000B/HM, 5010B/HM, 5015B/HM, 5800B, AquaMAX, BHS 5120, T2000, Trac 320, Trac 380, VS20 NSS Enterprises Incorporated: 200LX, 2016 DB/AB/AE, 20B, 20W/D, 210B, 21B, 24, 240LX, 24B, 260B, 2625, 2625 DB, 265LX, 26B, 26VS, 2730, 2730 DB, 27F/B VS, 285LX, 28LX, 325LX, 32B, 32BD, 32LX, 3330, 3330 DB, 33F/B VS, 385LX, 38BD, 38LX Pioneer/Eclipse Corporation: PE-2000B, PE-2000C, PE-2400S, PE-3200S Pullman/Holt Corporation: GB2000 Rolls-Surrette: EIGH210M Skyjack Inc. SJIII Snorkel International: AB38N, AB38W, S1930, S2033, S2545, S2633, S2646, SL 15, SL 19, SL 20, SL 26, SLH 2580, SLH 3280, SLH 4090, SLH 4091, UNO 33E, UNO41E Taski: 1465, 1480, 210E, 215E HD, 215E ST, 2510, 2550, 426 ST, 432 ST, 450E, 465, 480, 5700 ST, 6100, 6100E, 6200, 7200 ST Taylor Dunn: Aristocrat, B-050, B-100, B-150, B-2101 AMB GT, B-210EE, B-210GT, B-238, B-248 36V GT, B-248 48V GT, B-254 36V GT, BT-248 36V GT, BT-280 36V GT, Burdenmaster B2-10, C-415, C-432, C-433, Carrymaster B-125, E-Tram BT2-80, e2050 Workman, Expeditor MX600, FT-240, FT-280, Loadmaster B1-50, Model B 2-48, MX-1600, MX-600, R-380 36V, R-380 36V GT, R-380 48V, R-380 48V GT, Roadmaster R3-80, SC-090 24V, SC-100 24V, SC-100 36V, SC-100 48V, SC-175, SS-534, SS-536, SS-546, Stepsave SS5-36, Stockchaser SC1-59, Tourmaster B-100 Tennant Company Castex Inc. : Boss 2000B Tennant Company Nobles Industries Inc. : AS5400, Strive Rider Terex Corp.
2034, 2548, 32/21E, 32/21N, 41/24E, 41/24N, A28, A32J, A38, A42J, TA33, TA34, TA40, TA50E, V, V1433, V1433XL, V1833, V1833XL, V1932, V2033, V2033XL, V2048, V2048XL, V2053, V2648, V2648XL, V2653, V2653XL, X-14 Tornado Industries: 105B, 125B, 130B, 9400 Trojan: T-105 Upright: AB38N, AB38W, SL20, SL26N, SL30N, SP37, TL33, TM12, X20N, X20W, X26 Ultra-N, X26N US Battery: US-2200 Windsor Industries Incorporated: 20, 24, 28, 34, PT-20, PT-24, PT-32, S-200, S-260, S-260XP, S-261, S-262, Tracker AS Zefer: ZLS-15HC, ZLS-15n, ZLS-19n, ZLS-20n, ZLS-26n. Since 2004, Batteries In A Flash has served hundreds of thousands of customers worldwide! Batteries In A Flash is a retailer and wholesaler of quality batteries and chargers.
We carry a complete line of batteries and serve all consumer electronic, commercial, industrial, military, and government needs. We make every effort to get your order to you. Weekend orders from Friday after 1:00 P. Will be processed on Monday. We will try to correct your order in a reasonable amount of processing time.
Our customer service is here to help you. We can assist in helping you find the correct product or cross-referencing your product. If you are unsure or want to confirm your selection, give us a call. Battery US2000 6V 220Ah Group Size GC2 Flooded Lead Acid Deep Cycle Battery. Battery US2000 6V 220Ah GC2 Deep Cycle Batteries For Solar Power Boats.
Battery US2000-XC2 6V 220Ah GC2 Deep Cycle Batteries For Golf Carts. 6PC US US8VGCHC-XC2 8V 183Ah Deep Cycle Lead Acid Battery Golf Cart RV.
This listing is currently undergoing maintenance, we apologise for any inconvenience caused. This item is in the category "Consumer Electronics\Multipurpose Batteries & Power\Rechargeable Batteries". The seller is "batteriesinaflash" and is located in this country: US. This item can be shipped to United States.
Country/Region of Manufacture: U.
Amperage: 183
Amperage (20Hours): 183Ah
Chemistry: Flooded
Country of Manufacture: U.
Material: Other
Output Voltage: 8
UPC: 0026190091802
EAN: 0026190091802
Brand: Exell Battery
Type: Rechargeable Battery
Amp Hours: 2.2 Ah
Voltage: 1.2 V
MPN: EBC52110QTY, EBCR23305QTY, EBC5225QTY, EBC52220QTY, EBC5223QTY, EBC52210QTY, EBC5212QTY, EBC5213QTY, EBC5215QTY, EBC52120QTY
Battery Size: 2200mAh
Chemical Composition: NiMH
Application: High Drain Devices