2 Pack UB12350 12V 35Ah Wheelchair Medical Mobility Battery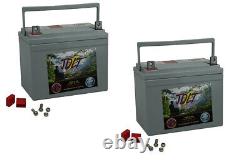 5 years service life under normal. Free Sealed Lead Acid Battery. Absorbent Glass Mat (AGM) technology for efficient gas recombination of up. Introducing the Jolt SLA 12V 35Ah Battery - Group Size U1! Experience reliable power and enhanced performance with our cutting-edge 12V 35Ah battery, meticulously engineered to cater to a wide range of applications. Crafted with thick absorbent glass mat (AGM) separators and incorporating advanced valve regulated technology, this maintenance-free battery offers outstanding performance while ensuring leak-proof and gas-free operation for your peace of mind.
Versatile and adaptable, the Jolt SLA battery finds its place in numerous scenarios, proving its worth in various applications. From Solar Panel Off-Grid Applications to Back-up Sump Pumps, Kayak Trolling Motors, RV VAN Camping Trips, Travel Trailers, and Golf Carts, it seamlessly powers your adventures and outdoor activities. Beyond that, it delivers dependable energy for Consumer Electronics, Electric Vehicles, Hunting and Fishfinding equipment, Lawn and Garden Tools, Medical Mobility devices, Portable Tools, Toys and Hobbies, Access Control Devices, Emergency Lighting, and Security Systems.
One of the key advantages of our SLA battery is its low self-discharge rate, preserving energy even during storage. With only about 40% per year or 3.3% per month, you can confidently keep the battery unused for up to 5-6 months when it's at full capacity. Although it is not recommended to store it without charging for extended periods, we advise performing a top charge every 2-3 months to maximize its shelf life. To ensure the longevity of your Jolt SLA battery, adhere to these best practices: Store batteries in a cool, dry place with an optimal temperature of 75 degrees Fahrenheit / 23 degrees Celsius or lower.
Periodically perform a top charge on the batteries. Store batteries in a fully charged state to maintain their performance. Thanks to its versatility and durability, our SLA batteries find application in various systems such as Access Control Systems, Home and Burglar Alarm Systems, Security Systems, Electric Scooters, Bikes, and Wheelchairs, Ride-on Toys, as well as Golf Carts, making it an indispensable power source for both everyday and specialized needs. Choose Jolt SLA 12V 35Ah Battery Group Size U1 and experience the dependable power that empowers your lifestyle and professional endeavors. Trust in Jolt to deliver excellence in every charge!
12V 35AH AGM Battery for Hoveround MPV5 MPV4 Wheelchair- 2 Pack.