12V 30Ah LiFePO4 Battery Lithium Phosphate Deep Cycle Energy Storage Battery lot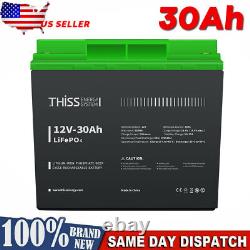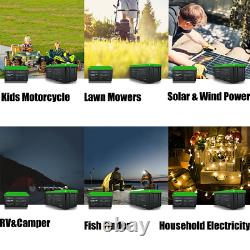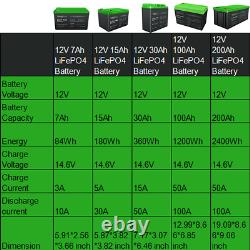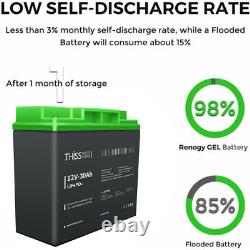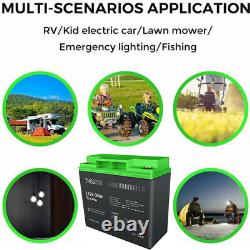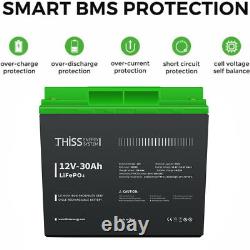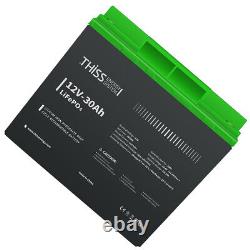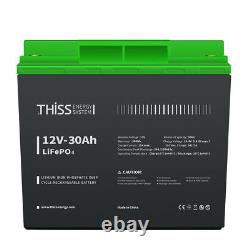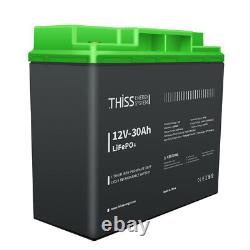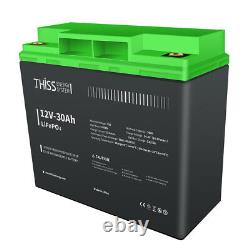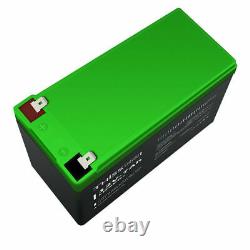 12V LiFePO4 Lithium Iron Phosphate Battery. Charge Voltage :14.4V 14.6V max. Battery Materials: Lithium iron phosphate battery. Size: 182mm X 78mm X 164mm, Charge Current: 15A max, Std/Max. Charge: 5A/15A, Continuous/Peak Discharge: 50A/100A(10s).
Original automotive grade lithium battery? THISSENERGYSYSTEM lithium iron phosphate battery is made of automotive grade lithium iron phosphate battery (LifePO4), which has higher energy density, more stable performance and greater power.
The high-impact battery case is made of non-conductive ABS plastic, a material that is highly resistant to shock, vibration, chemicals, and heat, resulting in superior quality. Based on the safety of the battery inside the battery, you can safely install it in any location. This makes Li-Iron batteries ideal for solar homes and is widely used in most fields such as: home lighting and emergency lighting, digital cameras, portable TVs, electric robots, lawn mowers, speakers, 12V routers, air pumps, fish finders, golf carts, electric vehicles (electric bicycles, electric robots, children's electric vehicles), RVs and camping, etc. THISSENERGYSYSTEM LiFePO4 battery provides more than 4000 cycles and 10 years of life. One module of our lithium iron phosphate battery is only 1/3 the weight of lead-acid battery and 60% lighter than lead-acid battery of the same capacity.
LiFePO4 batteries can be recycled and do not produce elements that are harmful to the environment, but lead-acid batteries pollute the environment. The product does not include a battery charger, please use a special charger for LiFePo4. Using other chargers, the battery may not be fully charged.
Note: Products with electrical plugs are designed for use in the US. Outlets and voltage differ internationally and this product may require an adapter or converter for use in your destination. Please check compatibility before purchasing. LiFeP04 batteries are maintenance-free batteries, If you need them all the time, Then lead-acid becomes too unreliable and laborious, The battery's lithium-ion properties reduce the weight of traditional lead-acid batteries to less than half, While significantly improving performance and capacity, Traditional lead-acid batteries contain large amounts of lead, After disposal if not properly disposed of, Will pollute the environment, While lithium materials without any toxic or hazardous substances, Recognized by the world as a green battery, Its great durability allows you to easily use them at home and at work, Or safe outdoor needs, The environment is most important.
The battery must be FULLY charged before first use. The battery is stored in a cool and dry place. Do not Separation, extrusion, and impact. Do not put battery into water and fire. It's a safer, faster and free way to pay! It is our goal to provide our customer 100% satisfaction. We strive to have the best customer service possible!! Sometimes have a little delay due to the weekends or holidays.
This item is in the category "Consumer Electronics\Multipurpose Batteries & Power\Rechargeable Batteries". The seller is "top_professional1997" and is located in this country: US. This item can be shipped to United States.
Brand: THISSENERGYSYSTEM
Vehicle Service Type: Passenger Car, Trailer, Lawn Mower
Size: 12V/30AH
Voltage: 12 Volts
Battery Cell Composition: Lithium-Phosphate
Compatible Equipment Type: RV, Camping, Golf Cart, Toy Car,
Model: Energy Storage Battery
Type: AAA
Chemical Composition: Lithium Iron Phosphate (LiFePO4)
Energy: 360Wh
Charge Current: 15A max
Std/Max. Charge: 5A/15A
Continuous/Peak Discharge: 50A/100A(10s)
Battery Features: Universal and Widely Used, Lightweight & Eco-friendly
Battery Size: 182mm X 78mm X 164mm
Manufacturer Warranty: 10 years
Shipping: 24Hs Dispatch,1-4 Days Local Free Delivery
Warranty: 10 Years Warranty + 60 Days Money Back
Compatible Equipment Type 1: Passenger Car, Trailer, Lawn Mower
Amp Hours: 30Ah
Application: Trolling Motor, RV, High/Low Drain/Solar/Wind Devices