12V 100Ah LiFePO4 Deep Cycle Lithium Battery for RV Solar Marine Golf Cart Car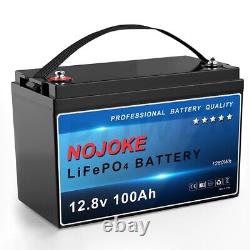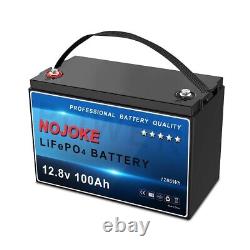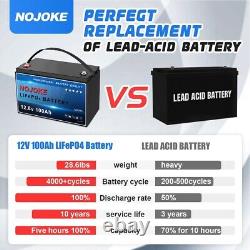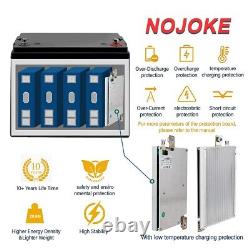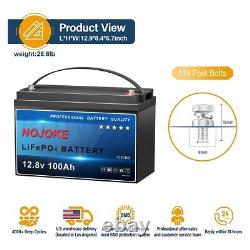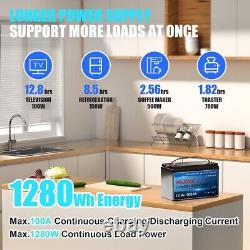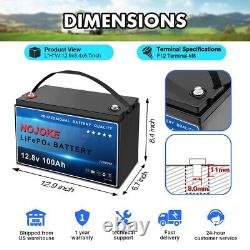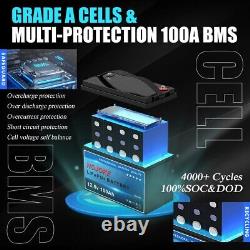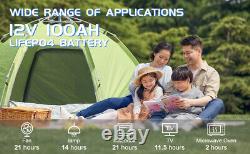 New 12V 100Ah 1280Wh LiFePO4 4000+ Deep Cycle, Built-in. Rechargeable Battery for RV Solar Marine System etc.
Lithium iron phosphate battery has high energy density, Long cycle life, Good safety performance, No memory effect, etc. Nojoke 12v 100Ah lifepo4 battery has built-in 100A BMS protection to prevent overcharge, Over-discharge, Over-current and short circuit, and excessive low self-discharge rate ensuring up to 1-year maintenance-free storage. Nojoke 12v battery is assembled with Grade A cells with higher energy density and the highest level of safety. 12 volt battery is perfect for Solar System RV Camping Trolling Motor. Nojoke lifepo4 battery with BMS protects it from overcharge, over-discharge, overload, overheating, and short circuits.
The BMS will automatically cut off the lithium battery. Only when the circuit is cut off, the battery will automatically reactivate.
10 Years Lifetime & Light Weight? 4000+ cycles of lithium-ion batteries is achievable, while traditional lead-acid batteries only have 300-500 cycles. More than 8 times higher than lead-acid batteries.
The battery does not contain acid, which is safer and more environmentally friendly than lead-acid batteries. For example, our 12V 50Ah lithium iron phosphate battery weighs only 12.8 pounds, which is only 1/3 of the weight of a lead-acid battery. Made from 100% safe, nontoxic, not hazardous energy, Nojoke deep cycle battery has higher chemical stability, it is not prone to thermal runaway and will not overheat or catch on fire. With no acid in the battery, you're able to safely mount in any position.
Technical after service team respond within 24hour. Never reverse connection of positive and negative electrodes of battery. Never hit or throw, step on the battery. Never use metal to directly connect the positive and negative terminals of the battery.
Never directly solder the battery or pierce the battery with nail or other sharp objects. Never immerse the battery into water.
Do not use as a car starter battery, jump starter, or engine starter battery. Do not use or place the battery at high temperatures, otherwise it will overheat, fire, or malfunction, shortened life.
LiFePO4 (Lithium Iron Phosphate) battery. 1 x 100Ah LiFePO4 Battery. Q: Can the battery be installed horizontally? Yes, the lithium iron battery is free from lead-acid battery safety issues such as battery leakage and battery corrosion, so it is perfectly fine to place the lithium batteries in any position.
You can use an AC-to-DC lead-acid charger that is mai. S powered, as charging efficiency and duration are less of a concern, it can not have automatic desulfation or equalization modes. If so, do not use it as there is a risk of damage the cells.
This can significantly shorted the life of the battery. If it has a simple bulk /absorption / trickle charge profile, it can be used to charge the battery but must be disconnected after charging and not left in trickle charge / maintenance mode. Q: When I receive this lithium battery, will it have enough power to use it right away? Our lithium battery has 30% factory capacity, which can guarantee your basic usage at the moment. If you run out of 30% of power, you can use solar panels or utility power to recharge your lithium battery.
Return package & item should be in original shape. We will reply & offer resolution in 16 hours in workdays. We are expert of lithium battery!